We were so excited to come to school on Monday! There was quite a thick blanket of snow on the ground – amazing fun to play in (a health and safety nightmare for Mr Stewart and Mr Cheyne!). We enjoyed playing in the snow at break and lunchtime –  we had a great time; the snow was quite a novelty for the temperate South! We also enjoyed our Winter discos this week, which were well attended. Thank you to our DJ- Mr North, and other members of the PTFA who stayed to help chaperone the disco.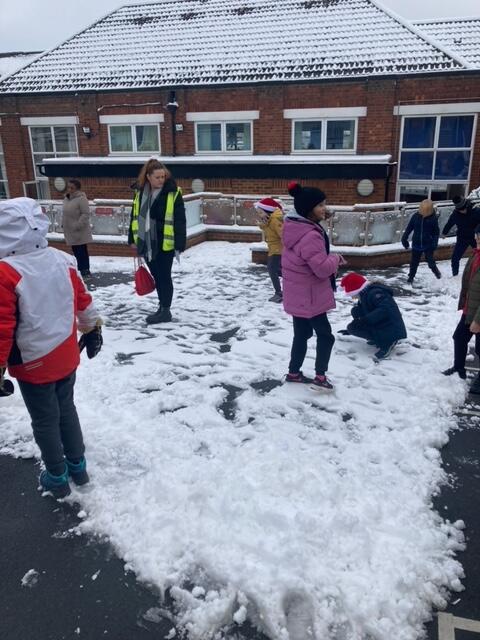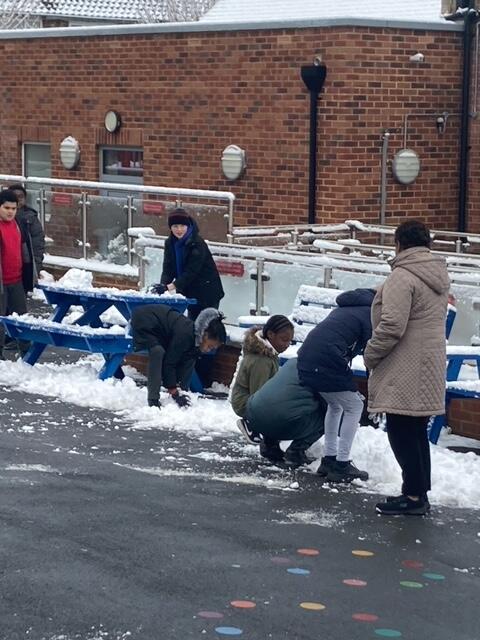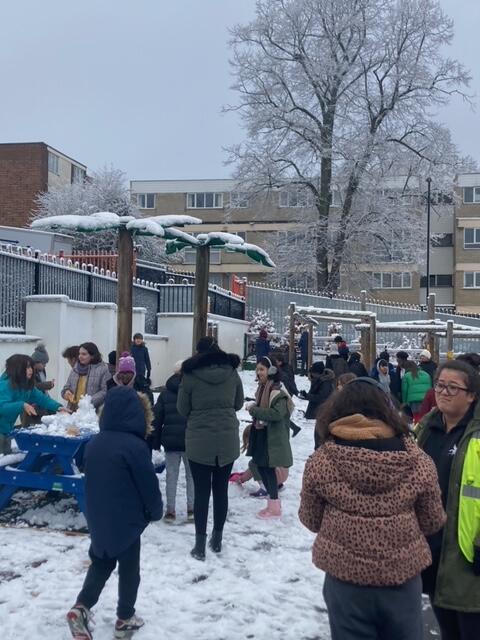 Cypress violins joined us for assembly on Wednesday and played 'Once In Royal David's City' and ' African Song'. Fiona, the violin teacher explained that last Friday the children played alongside the London Mozart Players at St John's church! They impressed their audience last week and also this week! We are very proud of you all.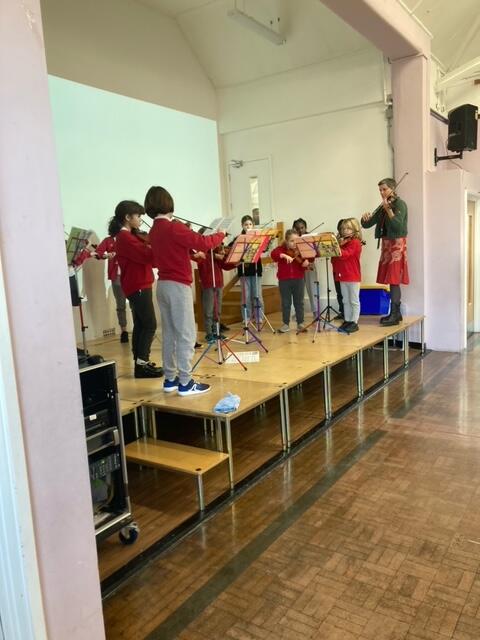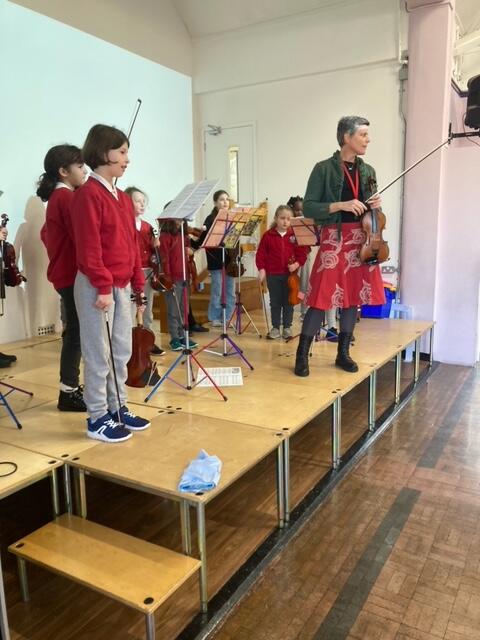 It was a closely run race, but a big well done to Sparta, who won the house point competition this term! They earned a non-school uniform day on Wednesday! Well done for being great role models of our Pegasus values! The points will roll over into next term and the competition will continue in the spring.
This week we have also had our Cypress Reading Reward assembly – please see our reading news story for further details! We are also aware of an issue with the QR codes on this term's bookmarks. Please do not worry – your child will receive a replacement when they return from their Christmas break.
Class parties have been in full swing today. Classes discussed themes with their teacher and planned party activities! We hope the children enjoyed their last afternoon of the term with their teacher and friends. Santa has also been visiting and has left gifts for each class to enjoy!
Today was our last day with Mrs Rose and Mr Opara. We gave them a wonderful farewell in this morning's assembly and send them on with our best wishes!
Cypress Superstars
Well done to Jo, who completed some tricky maths problems independently, showing his working out. He could justify his answers too! Saray has come on leaps and bounds with her writing. She has used powerful verbs, expanded noun phases and adverbs in reported clauses! Your work was a pleasure to read.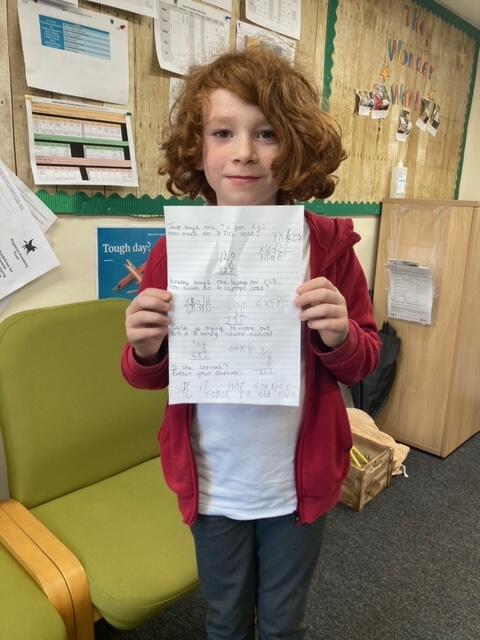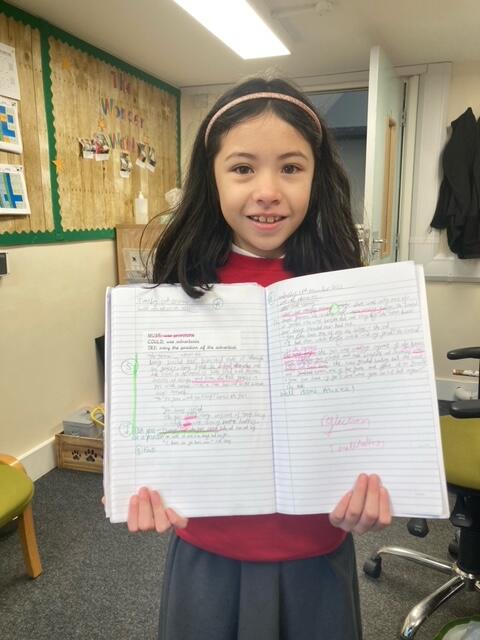 Gold Awards 
This half term we are celebrating 'Positive Behaviour'. The following children were awarded a Gold Award for being role models to their peers for their attitude to learning and school. Congratulations to: Alima & Ivan (Beech), Erin & Elsie (Larch), Chloe & Malcolm (Oak), Nicolas & Ami (Willow), Leo & Aaliyah (Sycamore), Musa & Frank (Hazel), Alex & Beatrice (Rowan), Rio & Fungie (Lime), Hettie & Zhane (Hawthorn), Omari & Emilia (Birch), Nevaeh & Max (Cedar) and Alice & Rion (Holly).
Year 4 Swimming
Swimming sessions will be starting next half term for Year 4. Please click here for further details. Children will be using the bus to travel to and from the baths. Please ensure that your child is dressed warmly for the journey to and from school. To make the lessons possible, each class will need a parent helper each day from 12:00- 3:00pm. If you available to support, please speak to your child's class teacher.
Year 4 Multiplication Tables Check
In June, children in Year 4 will be sitting the Multiplication Tables Check or MTC. It is important that your children know their times tables by the summer of Year 4 up to 12 x 12. These equations are integral building blocks on which more complex concept are taught. Children who do not know their tables may struggle in maths in Years 5 and 6 if this is not secure. The children at Upper are practicising their tables daily. Click the link to watch Ms Stewart's video to find out how you can help your child prepare for the MTC. There is also a handout from the Standards Testing Agency about the MTC. To read this, click here.
Support for families
There is a 

FREE

 Christmas holiday club available for children in receipt of Free School Meals (FSM).  Please look at the attached leaflet here and contact Playzone to book a place.
There is a

FREE

holiday club running at All Saints School over Christmas for children in receipt of Free School Meals (FSM). Click here to find out more.
Croydon Council are launching a new initiative to support families with children aged 0-7.  Click here to find out more about the HENRY Programme.
Wishing you a fantastic winter break and a Happy New Year! See you on Wednesday 4th January.
Mrs Carpenter and the Cypress Upper team