Mr Veale's welcome
'Are we nearly there yet?'  Today is the last day of June, a month that only has 30 days.  What I mean by my opening question is that we are so close the end of the academic year and that July is so nearly upon us!
For the children:  Did you know that July used to be called Quintilius?  'Quin' is Latin for 5, as in 'quintet'.  July was the fifth month in the Roman calendar, as the new year commenced in March.
Finally, the name of the month was changed to honour Julius Caesar and so has been contracted from Julius to July.  Now you know.
What another super week we have had here at Atwood.  The fine, if a little changeable weather towards the end of this week, has allowed the children to make full use of our great outdoor spaces that we have here at Atwood.  Today (Friday), I showed around two of our MACs (governors), and our tour focused on such aspects as our spiritual, moral, social and cultural provision for school life here at Atwood.  We focused on the wide range of clubs, activities, trip, visitors, camps, residential and other endeavours that the children enjoy.  Indeed, on our tour, Dale and Andre saw the Boys' Football Tournament led by the SAS coaches in full swing.
SAS Boys' Football Tournament
On Friday, the SAS coaches put on a superb Boys' Football Tournament which will complement the Girls' Tournament on Friday 14th July.  The Atwood field was alive with players from some of our local schools, such as Forestdale, The Crescent, Robert Fitzroy and Atwood.  Atwood fielded two teams:  Team A and Team B and this is how the day played out:
I am pleased to report that Atwood A reached the final against a very strong Crescent side.  I watched the match and to say the atmosphere was electric was an understatement.  The other non finalist boys and their teachers and adults cheered both teams on from the touch line.  They watched a high standard footballing talent displayed by both teams.  The Crescent nudged ahead 1-nil and then Atwood equalised.  Scores drawn.  Extra time was communicated by Coach Jack, our referee.  Still in deadlock- penalties:  the sweet agony of penalties- who would prevail?  Only time would tell.
The Crescent started strongly, Atwood countered and the familiar story unfolded, but a chink in the armour- Atwood slotted one past the keeper meaning that Atwood prevailed to win the SAS Boys' Football Tournament 3:2 and winning for the second year in a row. Kai, Luca and Toby were the goal scorers in the shoot-out.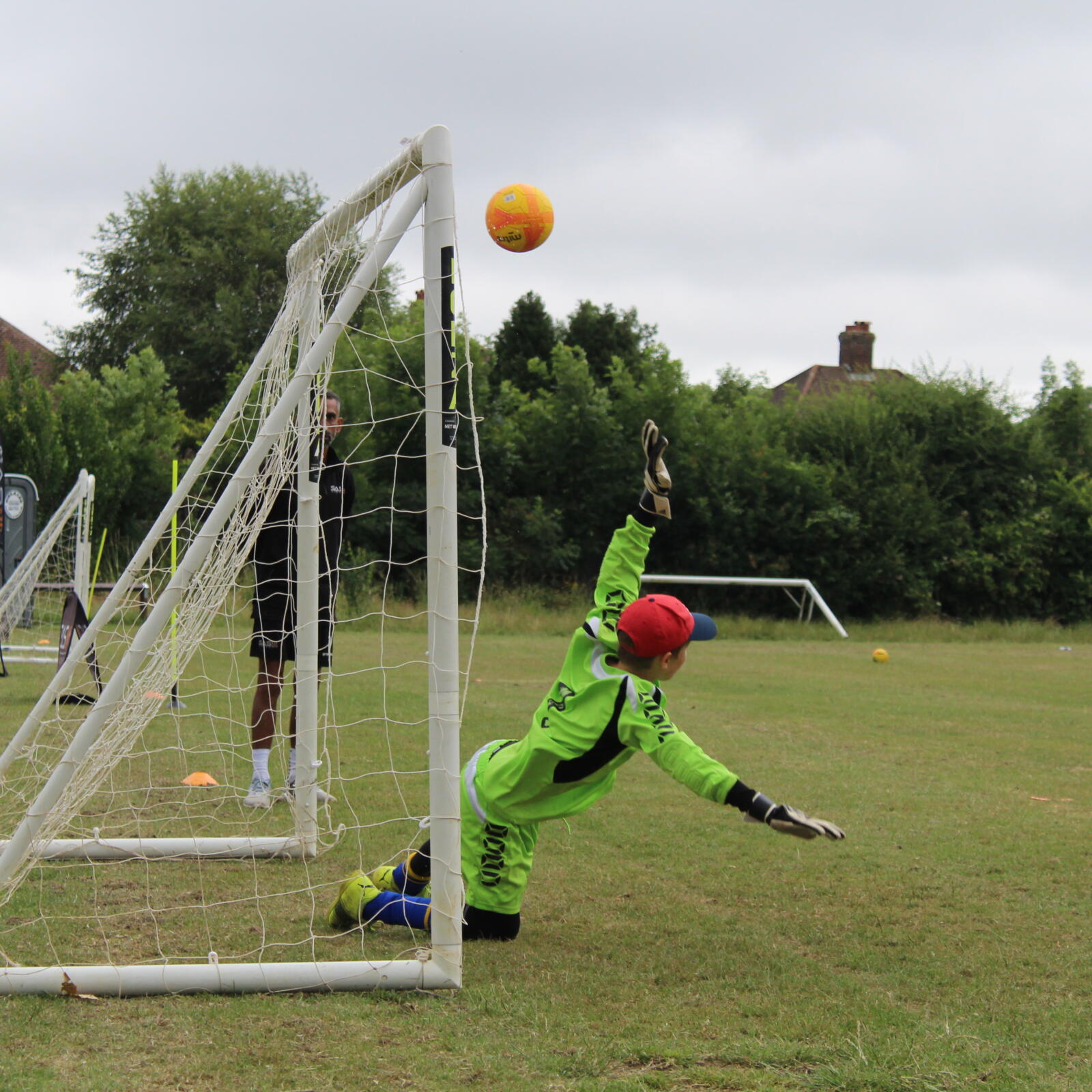 I was lucky enough to capture this amazing save!
Medals and speeches followed, as did thank yous.   Tired legs wended their way back to school; Atwood's journey made even sweeter back to their classroom with a medal around their neck.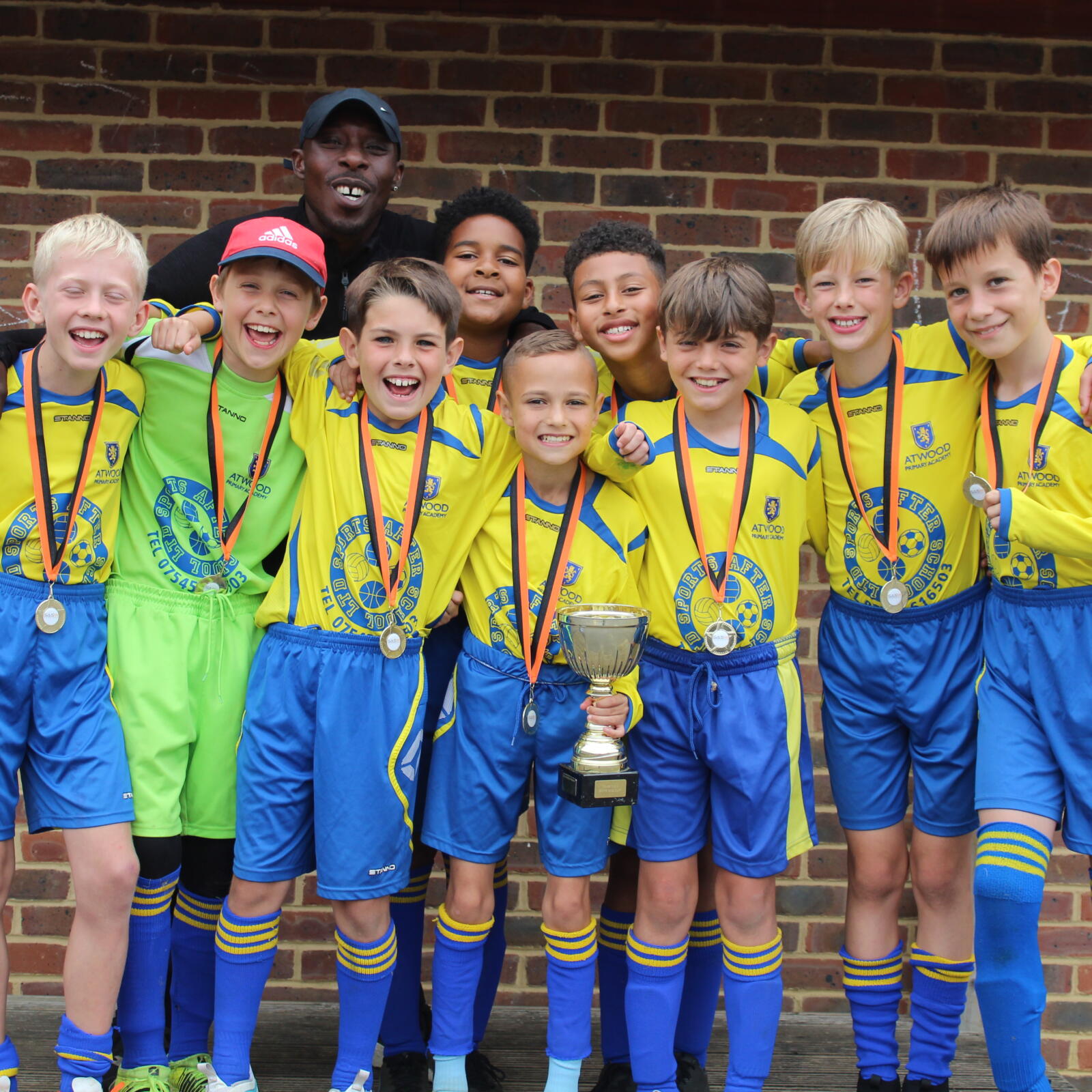 Chapeau Atwood 2023 Winners 
Café Atwood Seeking Parent Volunteers
As you will be aware, we are seeking reliable parent volunteers to be trained up to open the café and serve the children and their families.
We are looking to open the Café at the following times, certainly from the beginning of the Autumn Term:
Tuesday mornings 8:15-9:15 and
Thursday after school 2:45-3:45
Remember that ALL profits made at the café will go directly back in to supporting the children at Atwood.
If you feel that you can give up your time to help run the café please do contact the office and we will return to you with more details.
Speaking of cafes and cakes
Today, Year 6 held a Bake Sale in aid of their forthcoming Chessington adventure.  After a long week, a tasty cake was much appreciated by a lot of customers.
Why not take a look at the Atwood news stories from this week?
Early Years Fun Day: https://www.pegasusacademytrust.org/news/eyfs/atwood-early-years-fun-day
Year 1's trip to the British Wildlife Centre:  https://www.pegasusacademytrust.org/news/year-1/atwoods-year-1-visit-the-british-wildlife-centre
Croydon Athletics report:  https://www.pegasusacademytrust.org/news/atwood-performs-well-at-croydon-athletics
Summer Fair:  https://www.pegasusacademytrust.org/news/atwood-primary-school/atwood-summer-fair-simply-sizzled
Points (Pupil Reward Points)
Remember that everyone at Atwood believe in the Terrific Trio:  Kind Words, Kind Thoughts, Kind Actions and for that, the children are rewarded.  The first key milestone for a pupil is to reach 50 Pupil Reward Points because they will be awarded a £5 Book Token in Celebration Assembly, as we also wish to promote the love of reading at Atwood.  I will be taking a look at the leader board after half term.
Each pupil has been assigned to a Team or House.  These are Air, Earth, Fire and Water.  All Pupil Reward Points also contribute to the Team Points each week.
Here are the all important totals for the term so far:
| | | | |
| --- | --- | --- | --- |
| AIR | WATER | EARTH | FIRE |
| 765 | 683 | 697 | 615 |
Congratulations to AIR who have won the Team Points Competition for this week.  
Why not head over to the Pupil Reward Points website?  https://www.pupilrewardpoints.co.uk
Attendance
The DfE continue to be concerned about attendance in the post covid world.  Indeed, governments across the world have noticed a worrying trend of children attending school less than before covid.  Atwood works on the 95% expectation and each year, we endeavour to hit our whole school community target of attending at least 95% of the time.  Most years, Atwood nearly reaches 97% which is higher than the national average.  Looking at the Year to Date percentage we have crept to the 95% mark and this is excellent news- let's keep it up, Atwood.
Attendance is important.  After all, children only have one opportunity to go to school, don't they?  As a rule of thumb, we expect children to attend school at least 95% of the time.  This allows for a child to be absent for a couple of days per year due to coughs, colds and medical appointments that cannot be made in holiday times.  Remember that we never authorise holidays in term time.  Often I am asked to authorise a family wedding abroad, or to visit a poorly relative abroad.  None of these are valid reasons for absence in term time.  Please bear this in mind.
Here are the attendance figures for this week:
| | | |
| --- | --- | --- |
| | Week Ending 23rd June | Week Ending 30th June  |
| Infants (highest) | Orange 100% | Yellow 99% |
| Juniors (highest) | 6S 99% | 3M 97% |
| Whole School (weekly) | 97% | 93.8% |
| Whole School (year to date) | 95% | 95% |
From us all at Team Atwood, enjoy the continued fair weather this weekend. 
Stay safe and see you all on Monday 3rd July. 
Mr. Veale