Standing Item
Congratulations to Mrs Standing who gave birth to a beautiful baby boy on Monday evening – Finlay James.  Both of them are back home and doing well.
Mr Veale's welcome
Happy St Patrick's Day.  Mr O'Connor proudly hoisted the Irish flag today which will remain until next Friday!
I've been reflecting on the depth of Atwood's curriculum; it is true that no curriculum is perfect and that schools are always in the process of ensuring that the curriculum on offer is 'broad and balanced' but that it is 'relevant and real'.  For example, the curriculum that is offered at Atwood may be very different to the curriculum that is offered in a rural school in Shropshire.  We know that reading is the golden thread that runs through the curriculum and that 85% of the curriculum requires a child to be able to read.  This is why we place so much emphasis on early reading.  We use a systematic synthetic phonics programme called Little Wandle Letters and Sounds Revised.
Atwood has a 'mastery approach' to the learning of mathematics.  This aims at developing fluency, reasoning and problem solving.  The mastery approach takes the view that children's learning should be broadened in a wide variety of contexts rather than racing on to the next element of learning- hence the word mastery- getting the children to truly 'master' the elements of mathematics.
Atwood also prides itself on having a wider range of other learning opportunities, such as trips and visitors, clubs, sporting and musical fixtures and activities.  When all put together, this makes Atwood's curriculum 'rich and diverse'– something for everyone, not matter a child's background, interest or learning style.  All children are included and all talents cherished.
Atwood aims to educate to 'whole child' and that the more formal side of learning is a vital element of school life but should always be balanced with the 'hidden' and 'wider' curricula provision.  This means developing children's spiritual, moral, social and cultural selves, through PHSE, citizenship, assemblies, whilst at play and across the school day.  This provides them with opportunities to learn about the Trust's Values and put them into practice.
Just this week, I have been visiting classrooms and taking a look at the wider life of the school, to see what is on offer.  I have probably missed a lot, but here is a small snapshot of what was on offer just this week- in brackets I have put the clubs that would have been on in an ordinary non-strike week:
Science workshops
KS2 children took part in Saturday's Cross Country fixture
KS2 recorded 4 songs in Monday's assembly
Girls' Football Match
Crochet Club- beginner and advanced clubs
Netball Club (and celebratory end of season pizza night)
Mini Tennis
Flexiflics gymnastics
Breakfast and After School Clubs
Coding Club- Years 3 and 4 and then for 5 and 6
Cooking Club
Choir
Band Practice
French Club
(Chess Club)
(Art Club)
(Girls' Football Training)
(Multisports)
(Boys' Football Training)
(Dodgeball)
Year 5 Maths Club
Football for Years 3 to 6
Missing Body RE Workshop and All Saints Church
Listening to Lion Radio on the KS2 Screen
I think that you will agree with me that this is a very wide curriculum offer from Atwood!  Why not take a look at my recent news stories from this week?
Cookery Club:  https://www.pegasusacademytrust.org/news/atw-cooking-up-a-storm-at-cookery-club 
Cross Country: https://www.pegasusacademytrust.org/news/atwood-primary-school/atw-performs-well-at-cross-country
Coding Club:  https://www.pegasusacademytrust.org/news/atwood-primary-school/bruno-the-dog-learns-to-code-at-atw
Eco Champions:  https://www.pegasusacademytrust.org/news/pupils/atwoods-eco-committee-take-action
Girls' Football Match:  https://www.pegasusacademytrust.org/news/atwood-girls-defeat-robert-fitzroy-2-0-in-a-thrilling-victory
Swimming Gala:  https://www.pegasusacademytrust.org/news/atwood-makes-a-splash-at-the-swimming-gala
KS2 Singing- Recording of 4 Songs:  https://www.pegasusacademytrust.org/news/year-3/atwoods-ks2-pop-up-choir
LionPod- Podcasts are being launched:  https://www.pegasusacademytrust.org/news/atwoods-first-podcast-for-a-long-time
Science Workshops- https://www.pegasusacademytrust.org/news/pupils/atw-scientists-make-the-connection
Talking of Clubs…
Kariss from Year 5 came to see me to show me her crocheted bee.  I think you will agree with me that it is amazing.  Well done, Kariss.  You can also listen to Kariss as she presented the first LionPod alongside Sofiah, who is also in Year 5.  Click the link above to hear them talk about sport at Atwood.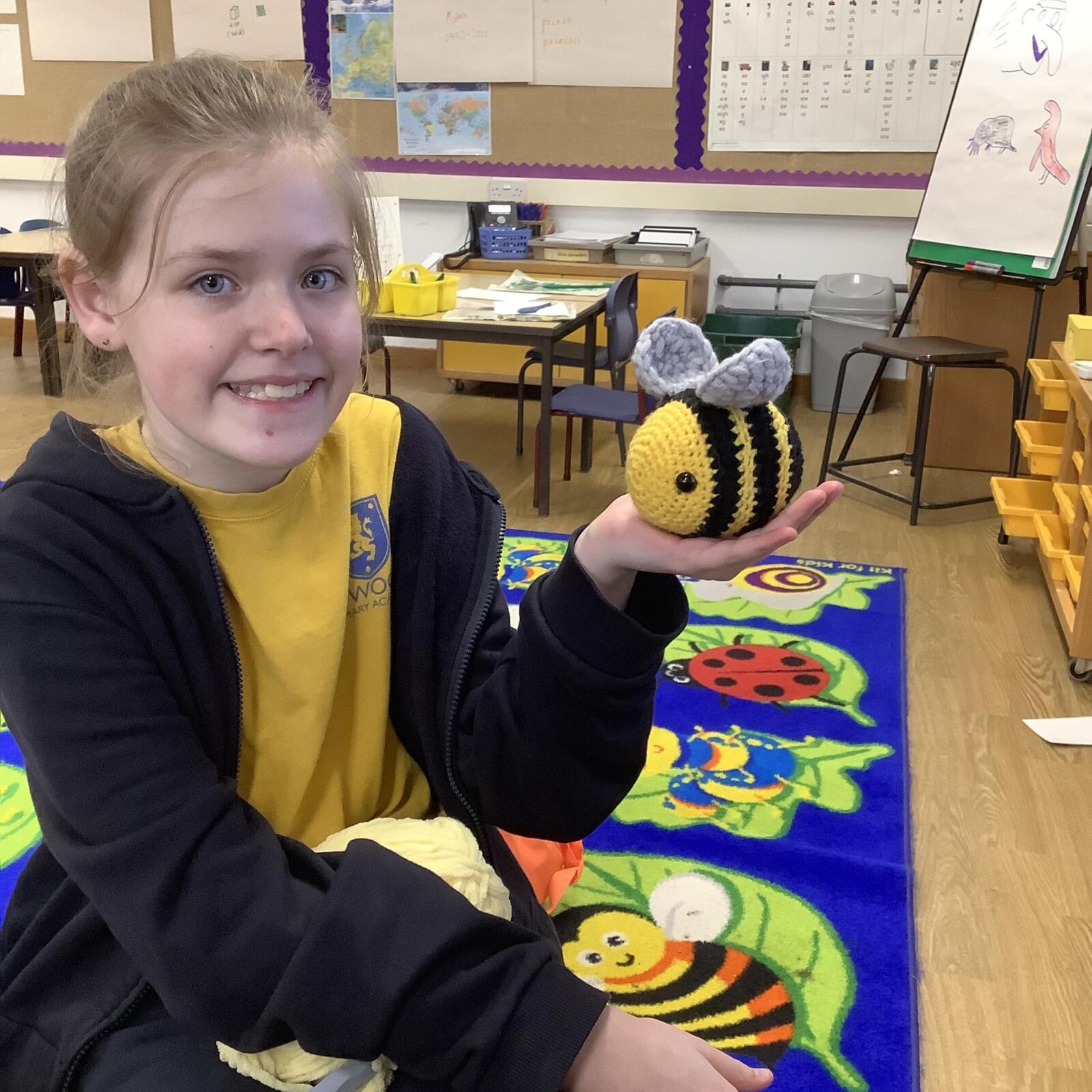 Science Workshops
Mrs McWinnie has provided this update from 3M:
Science week in 3M
'This week we have been exploring science in many different ways!
We began by enjoying the wonderful science workshop where we amazed ourselves with how we can balance a tin can on its side with the help of gravity and keep ping pong balls up in the air using a hairdryer!
Next we explored shadows. We went outside and used torches in the classroom to investigate how the strength and distance of a light source can affect shadows, changing their darkness, size and shape.
Then we decided to investigate structures, linked to the science week theme 'Connections'. Our task was to create the strongest bridge using just paper and sticky tape. This was a lot of fun! First we found out about different well known bridges from around the world and learnt about what makes them strong and stable. With that knowledge, we created some designs and then worked in teams to create 'the strongest bridge' (in other words, the bridge that could take the weight of the most books!). We experimented by rolling, layering and folding the paper in different ways to develop our structures until finally we came up with bridges that we thought would be best. The winning bridge managed to hold 18 chapter books!'
Times Tables Rockstars Update
This week saw another Times Tables Rockstars (TTRS) battle amongst Years 2-6.  Every correct answer is equivalent to one point for a class team.  We celebrated the winning teams in our classes today and also recognised the top 3 most valuable players in each class.  A special mention has to go to Eldon and Eli in 4T who each collected over 60,000 correct answers during the week!  Well done boys! 
​1st place class: 4T (190,716 points)
2nd place class: 3M (75,908)
3rd place class: 4MT (53,175)
Top players in each class:
Orange: Kiera, Isabelle, Jency
Green: Ezra, Asher, William
3S: Cara, Grace, Arlo
3M: Shailen, Avni, Moiz
4MT: Zara, Meli, Phoebe
4T: Eldon, Eli, Ire
5D: Casey, Nimisha, Nabilah
5G: Felix, Joseph, Jessica
6S: George, Fletcher, Millie
6SB: Aaron, Amelia, Anais
Keep an eye out for another inter-school tournament coming next term!
Word of the Week 
This week's word is tongue.  The word tongue is about 1000 years old and it is linked with the Latin word lingua.  Lingua also gave us the word language.  The two words are connected when we describe a particular language as a 'tongue'- for example, my mother tongue is English.  This means that my native language is English.
What is you mother tongue?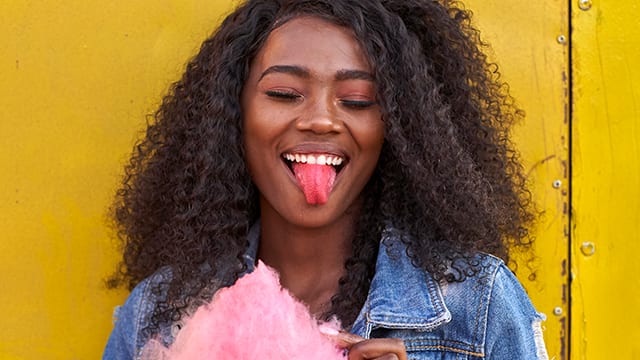 Team Points (Pupil Reward Points)
Remember that everyone at Atwood believe in the Terrific Trio:  Kind Words, Kind Thoughts, Kind Actions and for that, the children are rewarded.  The first key milestone for a pupil is to reach 50 Pupil Reward Points because they will be awarded a £5 Book Token in Celebration Assembly, as we also wish to promote the love of reading at Atwood.  I will be taking a look at the leaderboard after half term.
Each pupil has been assigned to a Team or House.  These are Air, Earth, Fire and Water.  All Pupil Reward Points also contribute to the Team Points each week.
Here are the all important totals for the term so far:
| | | | |
| --- | --- | --- | --- |
| AIR | WATER | EARTH | FIRE |
| 455 | 410 | 407 | 372 |
Congratulations to AIR who have won the Team Points Competition for this week.  Indeed, the competition is hotting up as the gap is not that great anymore:  who will prevail at the end of the Spring Term on Friday 31st March?
Why not head over to the Pupil Reward Points website?  https://www.pupilrewardpoints.co.uk
Attendance
The DfE continue to be concerned about attendance in the post covid world.  Indeed, governments across the world have noticed a worrying trend of children attending school less than before covid.  Atwood works on the 95% expectation and each year, we endeavour to hit our whole school community target of attending at least 95% of the time.  Most years, Atwood nearly reaches 97% which is higher than the national average.  Looking at the Year to Date percentage of 94.8% so far, we are doing better than many other schools, but we just need a concerted effort in the remaining part of this year to rise above 95%.  I know we can do it.
Attendance is important.  After all, children only have one opportunity to go to school, don't they?  As a rule of thumb, we expect children to attend school at least 95% of the time.  This allows for a child to be absent for a couple of days per year due to coughs, colds and medical appointments that cannot be made in holiday times.  Remember that we never authorise holidays in term time.  Often I am asked to authorise a family wedding abroad, or to visit a poorly relative abroad.  None of these are valid reasons for absence in term time.  Please bear this in mind.
Here are the attendance figures for this week:
| | | |
| --- | --- | --- |
| | Week Ending 10th March  | Week Ending 17th March |
| Infants (highest) | Green 96.7% | Orange 98.3% |
| Juniors (highest) | 5G 96.7% | 5G 100% |
| Whole School (weekly) | 94.5% | 95.9% |
| Whole School (year to date) | 94.7% | 94.8% |
Forthcoming dates with newly added items in BOLD
Saturday 18th March – SLH Cross Country Races
Monday 29th March – Year 6 to visit Wimbledon Temple
Monday 20th to Wednesday 22nd March – Year 5 Residential to Carroty Wood
Thursday 23rd March- 10am start for Year 5 Carroty Wood adventurers!
Tuesday 28th March – Red Class to visit Sanderstead Methodist Church- 12.30-1.15pm
Thursday 30th March – Yellow Class to visit Sanderstead Methodist Church- 12.30-1.15pm
Thursday 30th March- School Disco- details to follow
Friday 31st March – Last day of the Spring Term 2 closing at 1.30pm- No After School Care
Monday 3rd April to Thursday 6th April- Sports After School Easter Camp Week 1
Tuesday 11th April to Friday 14th April- Sports After School Easter Camp Week 2
Friday 14th April- PAT Parent and Carer Survey closes
Monday 17th April – Summer Term 1 Commences
Saturday 22nd April – Happy's Circus- Gates open at 12 noon.  FOAP Event- Please do support this Atwood community event
Monday 1st May- Bank Holiday
Monday 8th May- Bank Holiday
Tuesday 9th May to Friday 12th May- Year 6 SATs Week
Monday 22nd May to Friday 26th May- Pegasus Walk to School Week
Friday 26th May- End of Summer Term 1- normal closing time
Monday 5th June- Summer Term 2 Commences
Monday 19th June- Year 1's Trip to the British Wildlife Centre
Wednesday 21st June- New to Nursery and Reception Parents' Evening- 6.00pm
Thursday 22nd June- Sports Day
Tuesday 4th July- Pegasus Directors' Day- Lunch at Atwood
Tuesday 4th July- Year 2 Trip to Eastbourne
Thursday 6th July- Camp Atwood for Year 4- please take note of change of day
Friday 7th July- Year 6 in to Year 7 Transition Day
Thursday 13th July – Museum Day for Year 2 and 3.  Details to be confirmed
Thursday 13th July- Year 6 Prom Event
Friday 14th July- Reports to Parents
Monday 17th July- Year 3 Trip to RHS Wisley
Monday 17th July- Disco for Year 1 to 5- details to follow
Thursday 20th July – 6.00pm to 8.30pm- Year 6 Leavers' Party
Friday 21st July – 9.30am- Year 6 Leavers' Service
Friday 21st July – Last day of Summer Term closing at 1.30pm
To note, all of the ATW dates are on the calendar and so please click on this link to find them: https://www.pegasusacademytrust.org/events-calendar?school=ATW  
And finally, just for the children…
This Week in History- The Hula Hoop is legally registered 
In March 1953, Arthur Melin, from California, US got a patent (a legal document that stops people copying an invention or idea) for the hula hoop.  Melin and Richard Knerr from the company Wham-O got the idea from Australian children, who twirled wooden hoops around their waists.  They named it after the traditional hula dance from Hawaii, US.  Wham-O sold 25 million plastic hula hoops in the first 4 months of production!