Mr Veale's Welcome
Harvest Festival 2022
Harvest Festival 2022 went really well.  For a more in depth report, please click on this link: Harvest Festival 2022 .
News Round-up
Launch of Atwood's new Reading Curriculum
One of the key reasons for joining the Trust was to ensure that Atwood's curriculum is strong and meets the needs of the Atwood children.
Reading is the 'golden thread' that runs throughout a pupil's school life and it is imperative that all children at Atwood are proficient readers and make good progress throughout their time at school.
Being able to read with fluency is only one facet of reading:  being challenged and enthused by quality texts is another and to this end, Mr Simons, as English Leader, has worked with the reading experts at Pegasus, in order to bring a new reading curriculum to Atwood.
Based on a wide range of quality texts, the new reading curriculum will ensure that our children are best set to develop excellent reading skills, whilst developing a love for books.
I will bring you more news on the Reading Curriculum after half term.
School Photos
Thursday and Friday saw the annual rite of passage- school photos.  As ever, the children were amazingly patient waiting their turn and it was great to see the siblings having their photos taken.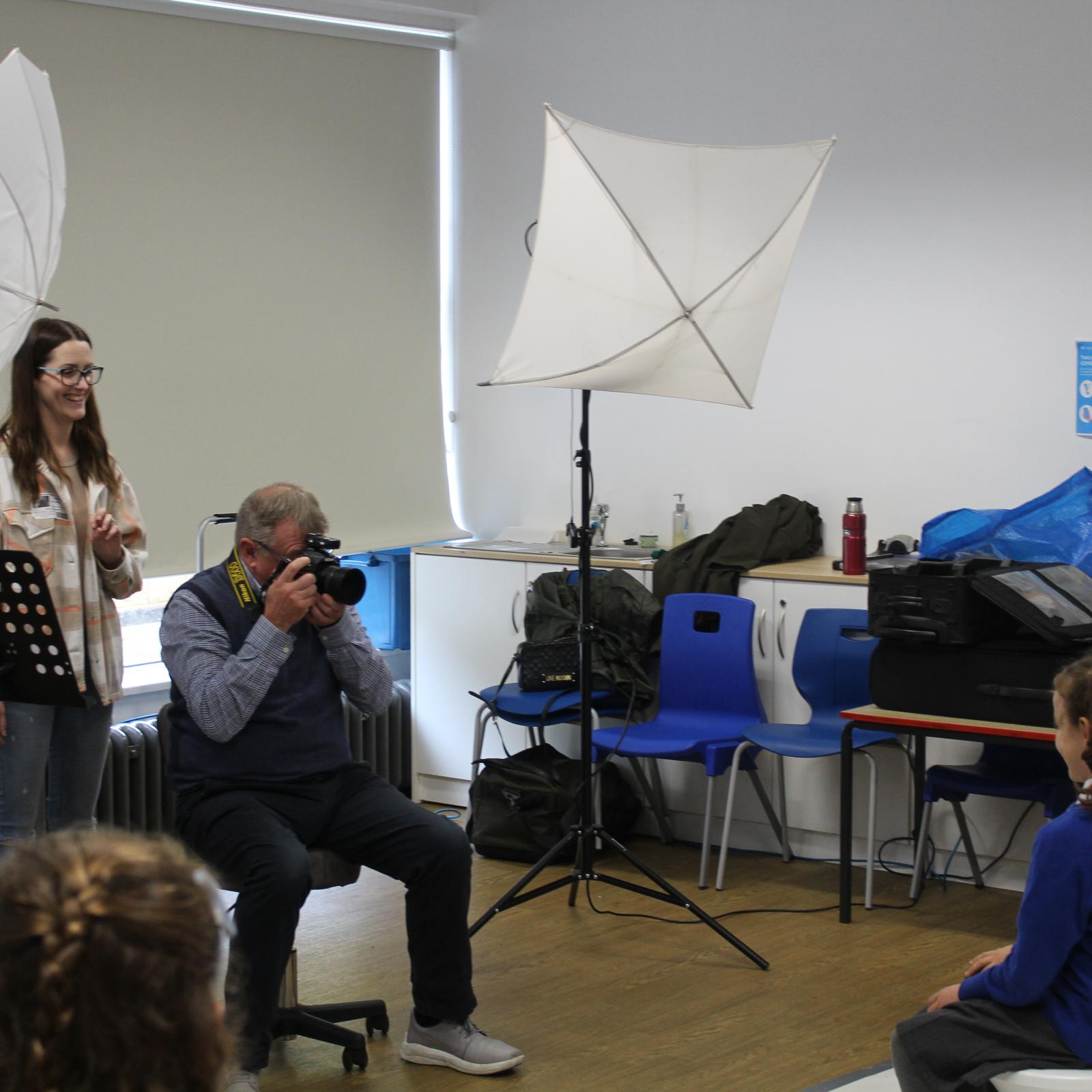 Girls' Netball Match
On Tuesday 18th October, the Girls' Netball Team started their season with a loss at the hands of Gresham at home.  Depite the 14 to 0 scoreline, the girls demonstrated resilience in the face of a stronger side.  Well done, girls- I look forward to celebrating your first win- you can do it!
Here is the match report written by the children-
'On Tuesday afternoon, the sun was out for our first Netball League match in 3 years where we welcomed Gresham as our first opponents.  The whole team were so excited and had huge grins on their faces from the moment they put on their bibs and "official" team skirts! 
Lily was our team captain for this match and after we had decided on which end we wanted to shoot, the girls got into position.  While the end result did not go our way, the Atwood Team did not give up and tried their very best right to the end. 
It was a good experience to play competitively again and the entire team should be very proud of their efforts.  Special mention to Gracie, Seren and Olivia who played the whole 20 minutes as well as Keisha who played in a new position of Goal Shooter. 
We have 3 more league matches scheduled before Christmas and we cannot wait to see how this team works together going forward. 
Well done to Alyssia, Amelia, Charlotte, Evie, Gracie, Keisha, Lily, Mati, Olivia, Renee and Seren'. 
Black History Month
Black History Month rounded out this month.  Mrs McWhinnie introduced the children to an artist of black heritage called Alma Woodsey Thomas .  Alma was the first African American female artist to gain a degree from an American university.  Her work is striking and focuses on printing techniques.  I have put a couple of photos in the gallery below, but we will return to take a closer look at the children's interpretation of her work after half term.
Pre-loved Uniform Sale
My thanks to the FOAP for organising the pre-loved uniform sale today in the library.  This event was very well attended.  Please see some photos below in the gallery. Tonight sees another Bubbles and Bingo event in the Junior Hall.  All funds raised by the FOAP improve the facilities and experiences for your child.
Computing News from Ms Docherty
Purple Mash
We have recently subscribed to Purple Mash to use as the foundation of our computing curriculum.  As well as being an excellent resource to enhance our computing learning here at Atwood, it also has an excellent collection of programs, games and activities that your child may want to use over the school holidays.
You can sign into our Purple Mash site here: http://purplemash.lgfl.net/  Your child(ren) will need to use their USO username and password (which is the same as their Google Classroom username and password, without the suffix @gsuite.pegasusacademytrust.org)

Word of the Week
This week's word is PORRIDGE.
As the weather turns colder, one might enjoy a bowl of steaming porridge. But where does this interesting word come from?
Porridge in the 16th C would have been like a thick and hearty soup.  The word 'porridge' is a variation of the word 'pottage', which comes from the French potage, meaning 'something cooked in a pot'.
The use of the word today's hot oatmeal in water or milk dates from the 1640s.
Team Points (Pupil Reward Points)
Remember that everyone at Atwood beleive in the Terrific Trio- Kind Words, Kind Thoughts, Kind Actions and for that, the children are rewarded.
The first key milestone for a pupil is to reach 50 Pupil Reward Points because they will be awarded a £5 Book Token in Celebration Assembly, as we also wish to promote the love of reading at Atwood.  Each pupil has been assigned to a Team or House.  These are Air, Earth, Fire and Water.  All Pupil Reward Points also contribute to the Team Points each week.
Here are the all important totals for the term so far:
| | | | |
| --- | --- | --- | --- |
| AIR | EARTH | FIRE | WATER |
| 102 | 77 | 84 | 91 |
Congratulations to AIR who have won the first half term.
Why not head over to the Pupil Reward Points website?  https://www.pupilrewardpoints.co.uk
Attendance
Attendance is important.  After all, children only have one opportunity to go to school, don't they?  As a rule of thumb, we expect children to attend school at least 95% of the time.  Here are the Attendance figures for week ending Friday 14th October:
| | | |
| --- | --- | --- |
| | Week Ending 14th October | Week Ending 21st October  |
| Infants (highest) | Blue 100% | Blue 99.3% |
| Juniors (highest) | 4T 99.6% | 4T 97.9% |
| Whole School (weekly) | 96.2% | 93.9% |
| Whole School (year to date) | 96.4% | 96.0% |
Forthcoming Dates- please search for the ATW dates here:
https://www.pegasusacademytrust.org/events-calendar?school=ATW 
Friday 2nd December – EYFS Christmas Making Day
​Thursday 8th December – Reception Concert 9.30am and 2.15pm
Tuesday 13th December – KS1 Christmas Play 9.30am and 2.00pm
Have a wonderful half-term holiday from the Atwood Team.