At the Upper School, we began the week with a visit from Margaret Bateson-Hill.  It is always a pleasure to have Margaret back with us at Cypress and she started our day with a wonderful retelling of the story of 'Baba Yaga' which had us all enthralled.  Year 5 then enjoyed workshops with Margaret who linked the writing of cinquains to their work on 'The Sleeper and the Spindle'.  Well done Year 5, we were all really impressed with your writing.
At the Lower School this week we continued our fundraising efforts as the School Council have decided to buy a friendship bench in memory of Ms Fernandez.  We've now raised over £400 and look forward to the School Council deciding and ordering this bench very soon.  Thank you for your generous donations.
Indigo Class Assembly
On Tuesday morning we were delighted when Indigo class performed a highly engaging retell of 'The Three Little Pigs' with lots of "Not by the hairs on my chinny chin chin!".  They also performed some engaging poetry and sang 'Firework'.  We were so impressed with their clear, loud speaking voices and very confident acting. Thank you to Mrs Ebrahim, Mrs Kan and Miss Salami for their hard work and supporting Year 1 with their performance.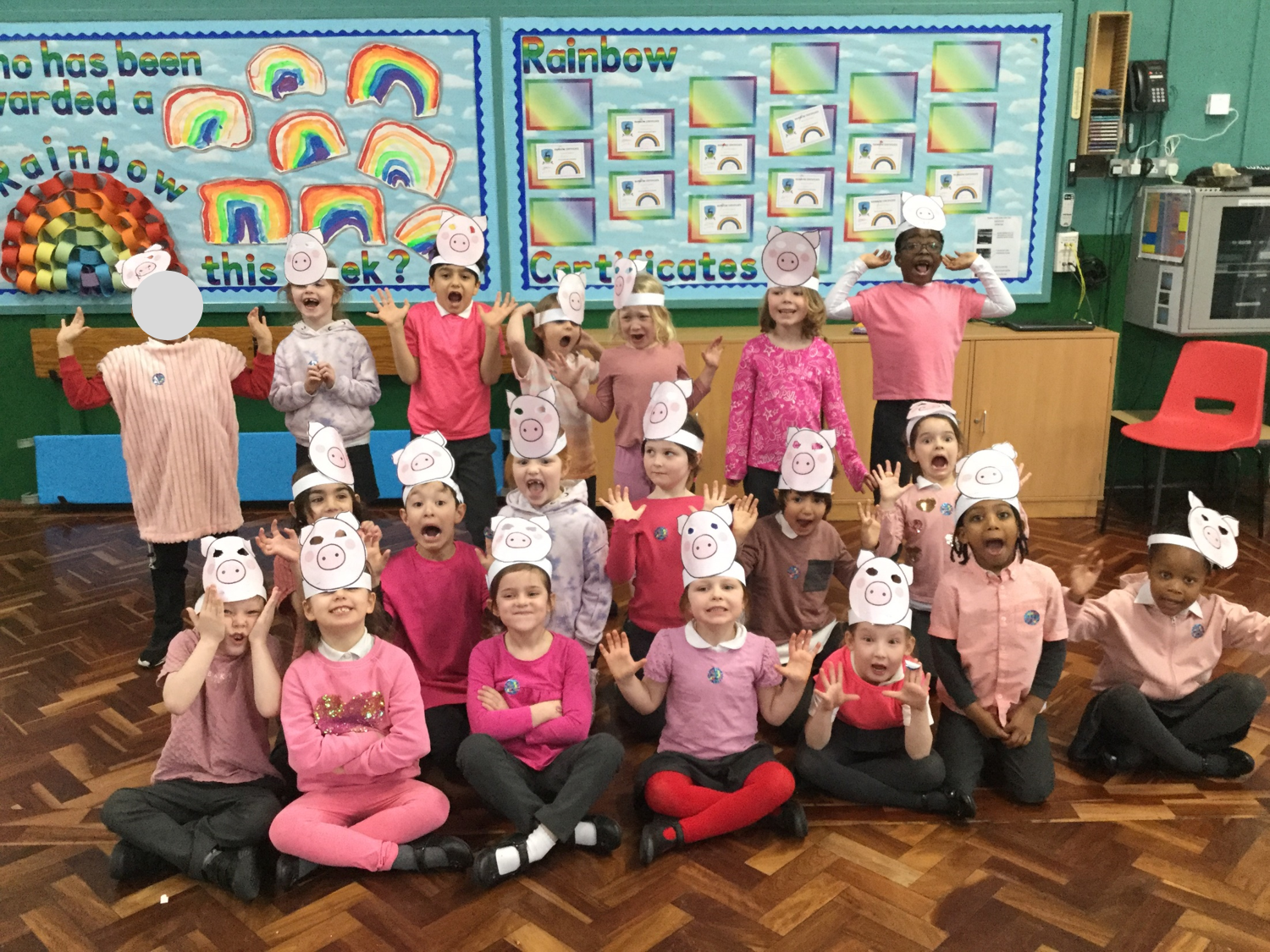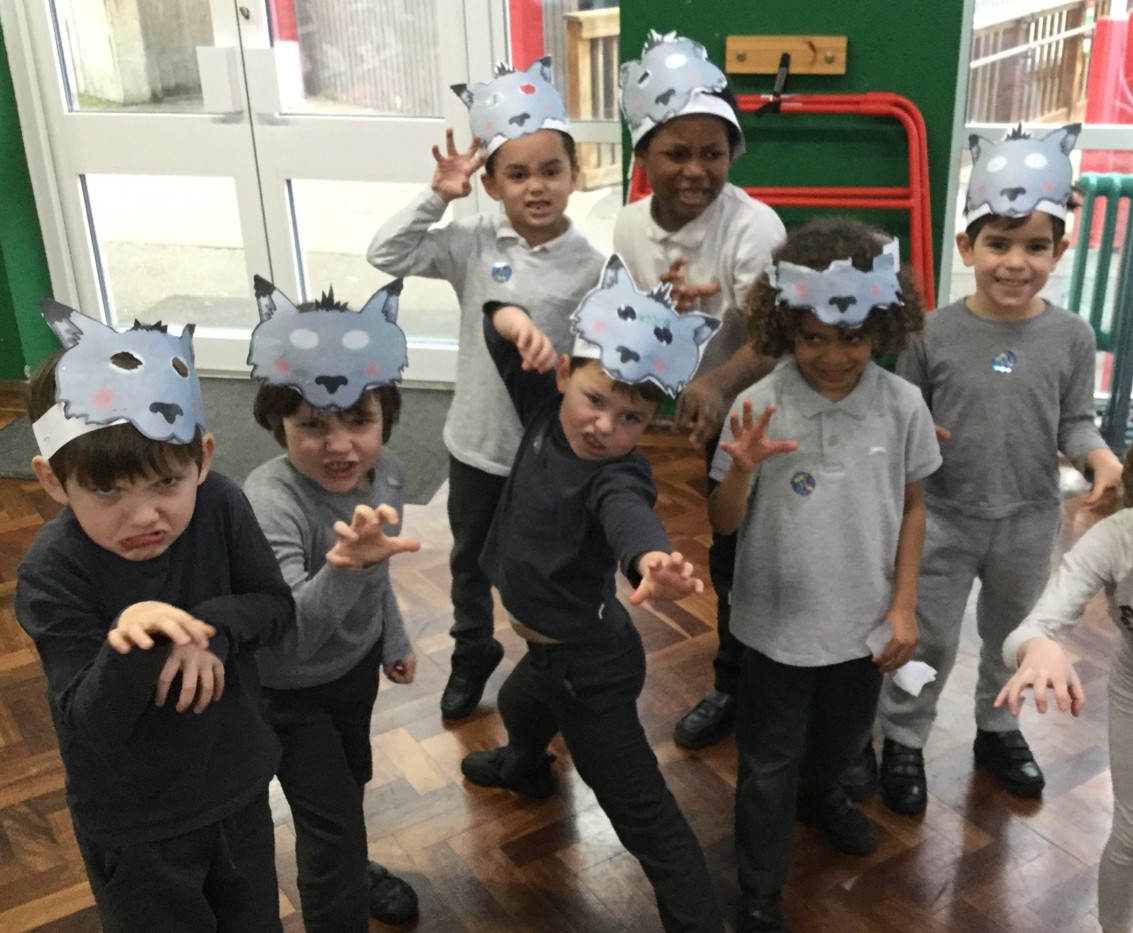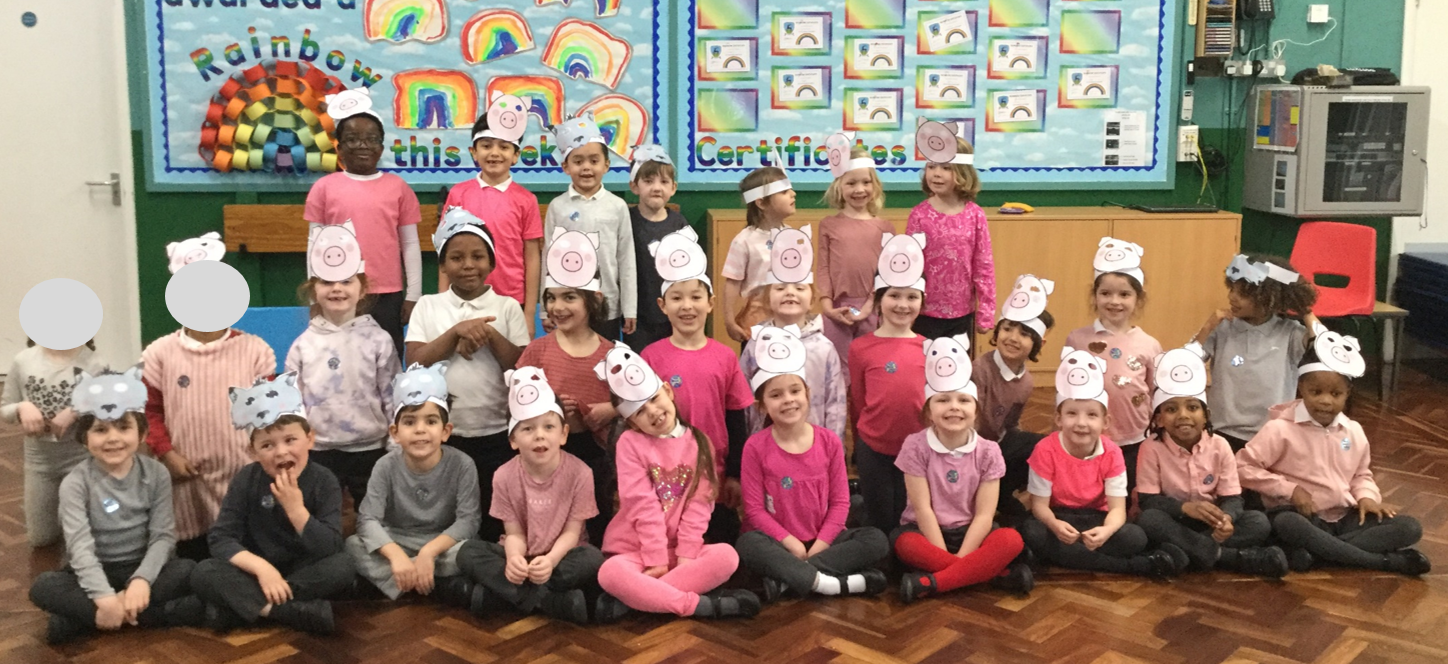 Birch Class Assembly
We started the morning at the Upper School with a fantastic assembly from Birch Class who performed a fantastic retelling of the book 'The First Drawing'.  The children worked well together to produce a confident and clear performance with excellent prosody.  Thank you to Miss Khatun, Miss Punyer, Ms Gould and Miss Thomas for your hard work in preparing the children for their performance.
Gardening Day
Thank you to all the families who joined us for the 'Gardening Day' at the Upper School on Saturday. The transformation of the area is unbelievable. It was amazing to see so many members of the school community in action.  There was such a happy and productive atmosphere.  We even found the pond again and made friends with a newt. Thank you to Jemma and Rona from 'The Goldfinch Garden Company' and to Miranda for all your hard work and organisation.  Thank you to Laura and the PTFA for providing refreshments to keep the workers going.  Watch the video below to see the before and after.
Cypress Superstars
Lower School: Well done to Joey in Blue class for creating a detailed map inspired by 'Jack and the Flum Flum Tree'.  Gordon, Jamie and Malaika have worked hard to produce a short narrative with powerful imagery inspired by the story 'Stuck' by Oliver Jeffers.  Aleksy in Blue class has made some thoughtful conclusions after working as part of a group exploring materials that could be used to make a boat which floats.  Tate in Orange class made a fantastic model of a boat and Oskar in Ruby class has continued to work independently in maths this week finding 1/2 of a quantity.  Well done to our Rainbow certificate recipients this week and also to Sophia, Mehnaz and Luna who won Word of the Week rosettes in assembly today.
Upper School: Well done to Kaiana in Larch Class and Alana in Hawthorn Class who came to the office to show their gymnastics medals they earnt at the weekend.  Keep up the great work!  Congratulations to Elsie in Larch Class who came to share her medal and certificate she earnt for taking part in a choreography workshop with her dance group.  What an achievement.
Makaton Sign of the Week
Our Makaton Sign of the Week is pie.  Have a go at signing the word pie!
Red Nose Day
Today is 'Red Nose Day' and we have been busy raising funds to support Comic Relief.  The children and staff have all paid £1 to come to school dressed in an outfit representing something that brings them joy.  This of course meant that Ms Binks had to come to school dressed head to toe in Disney.  What a surprise!  We have also had cake sales on both sites to raise money.  Thank to you everyone who donated money or cakes to this fantastic cause today.  We have raised over £350 across Cypress Lower and Upper today and hope to raise even more at our cake sales after school.
Coffee morning for Parents/ Carers of children with SEND
Next Thursday 23rd March we are holding a coffee morning open to all Cypress families.  Please join us after drop-off in the Lower School community room.  Click here to read the letter.
Next Friday 24th March the PTFA Easter Fair will be held at the Upper School from 3.20pm.  We look forward to seeing you all there!  Please click here to read more!
FRIDAY 24TH MARCH WILL BE A NON-UNIFORM DAY.  IN RETURN, PLEASE BRING AN EASTER EGG INTO SCHOOL.  THESE WILL BE USED AS PRIZES AT OUR FAIR.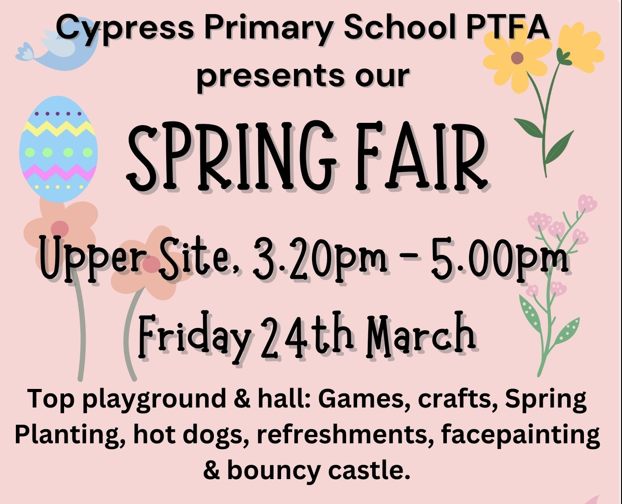 Easter holiday clubs
Over the Easter holidays Croydon Council is running lots of holiday clubs.  If your family is entitled to Free School Meals, these clubs may be free for you.  Thousands of Croydon children who are eligible for and claiming benefits-related free school meals can now sign up for free activity clubs with healthy meals over the school holidays. Please click here to visit the website and contact the club you're interested in directly to sign up.  Open to eligible children and young people aged 4 to 16 years, all programmes will provide:
free, nutritious and tasty food
fun physical activity sessions
a wide range of other exciting activities to suit different ages and personalities
opportunities to learn more about food and nutrition for children and their families
Have a wonderful weekend.
Mrs Sorensen, Ms Binks and the Cypress Team