What a fantastic half term we have had at Cypress Primary School!  Thank you to all our children for working so hard.
Reading Tree Rewards
We began the week at both the Lower and Upper School with our 'Reading Tree' assemblies, celebrating those children who have read each day this term.  There was a big increase in the number of children reading daily this half term which was really pleasing to see.  At Upper, the classes with the most readers were then awarded a 'Reading Cafe' afternoon for their class where they enjoyed some time to read their favourite books with hot chocolate, squash and biscuits.  The winning classes this term were: Cedar, Hawthorn, Sycamore and Larch.  At the Lower School, Ruby and Blue class won a Reading PJ afternoon!  Every child, who read daily was entered in to the book raffle to win a new book.  Well done to all those children who read every day.  The winners this term were:
| | |
| --- | --- |
| Blue – Harrison | Rowan – Samuel |
| Green – Joanna | Hawthorn – Maria |
| Indigo – Matipa | Lime – Faaiza |
| Turquoise – Frank | Hazel – Abbey |
| Violet – Aleena | Sycamore – Finn |
| Ruby – Oskar | Willow – Cara |
| Birch – Emilia | Larch – Munasar |
| Cedar – Max | Beech – Deimante |
| Holly – Bea | Oak – Bronwyn |
Year 3 Easter Production
Thank to all the parents and carers who were able to join us for the Year 3 Easter Production on Wednesday.  It was so lovely to see so many of you in the audience.  The Year 3 children were wonderful!  We were so impressed with their confidence, performance skills and team work.  Well done Year 3 we are all really proud of you.  A huge thank you to the Year 3 team for all your hard work and support in preparing the children for their performance.
Green Class Assembly
Congratulations to Green Class for their excellent assembly this week!  We had an amazing turn out so thank you to all the Parents and Carers who were able to attend.  Green Class performed a number of poems then recited 'Jack and the Flumflum Tree' by Julia Donaldson – we were so amazed at how many lines they remembered!  We were also treated to two wonderful songs, which even made a few of your parents shed a tear.  Thank you to Mrs Dutton and Miss Fiza for their hard work.
Cypress Superstars
Well done to Daphne, Betty, Isobel and Ida in Year 2 for speaking so eloquently in assembly today as they introduced their non-profit business proposal to KS1.  After the Easter holidays they are starting a business at playtimes where they will be spreading kindness and helping anyone who needs a friend during playtimes.  Irfan, Tyler and Alanna impressed us with their writing inspired by 'Iron Man', by Ted Hughes.  Harper, Phoebe-Rose, Maliaka, George, Alfie, Harrison and Ivy impressed Ms McLelland some some amazing writing this week where they all used interesting sentence starters and adjectives.
Well done to Kei in Cedar Class who has made excellent progress in her reading and was able to read her whole book with prosody and fluency.  Congratulations to Sincere, Melissa and Bobby who visited the office with their science work about the layers of the Earth.  They even performed a song to explain their learning.  Well done to Jay-Jay, Zhane, Jules, Albert, Khloe and Jasmin in Hawthorn class who came to show the paper hats and bags they made in their art lesson.  They had been inspired by the work of Coco Chanel.  We may have some future fashion designers on our hands.
Special Guest!
Mrs Carpenter joined us today on a Google Meet at the Upper to introduce us to baby Harrison.  We were all really excited to see her and had lots of questions to ask her about the baby.  It was lovely to see them both and we look forward to seeing Mrs Carpenter in school again very soon.
Bikeability
This week a group of children in Year 5 and 6 have been taking part in the Bikeability programme and have been working really hard. Well done to the children in Group 2, who were commended by the instructor for their excellent manners.  Congratulations to Lara, Thiago, Ralph, Hector, Pietro, Holly, Lucy, Jessica, Milo, Scarlett, Kurtis and Austin.  Well done for representing the school so well.
PTFA Fundraising
Thank to all our families who have supported our recent PTFA events.  The discos and Spring Fayre have raised around £2000 which is amazing!  Thank you, thank you, thank you to our PTFA volunteers for all your hard work and organisation.  We really appreciate everything you do for Cypress and our children.
Studybugs
As you will be aware, we have recently moved to a new way of reporting absence and communicating with the school via an app called 'Studybugs'.  We have exceeded our 50% target and now have 52% of Cypress families registered!  If you have not yet had a chance to download the app or register for an account, you can find further information in our news article here.  We are aware that some emails from Studybugs are going to 'junk mail' so please check here if you have not been receiving emails from Cypress.  After Easter, we will be using Studybugs for the majority of our comms with families.
Pegasus Annual Parent/Carer Questionnaire
Please click on this link to complete our annual questionnaire.  This questionnaire is designed to help us improve our school and compare the provision across the Trust so please give it careful thought.  We try to act on suggestions and areas of weakness whenever we can.  This survey will close after the Easter holidays on Friday 14th April 2023.
Gold Award
This half term our Gold Award focuses on those children who have made good progress in 'Curriculum Achievement'.  Even Seve joined our Gold Award assembly at the Lower School today!  Congratulations to the following children who achieved the award this term and will feature on our Gold Award displays for the next half term:
| | | |
| --- | --- | --- |
| Orange Class (Reception) | Zackary | Abigail |
| Red Class (Reception) | Ella | Freddie |
| Yellow Class (Reception) | Lovell | Hamdi |
| Blue Class (Year 1) | Ivy | Joey |
| Green Class (Year 1) | Oliver | Ellie |
| Indigo Class (Year 1) | Jocelyn | Jason |
| Ruby Class (Year 2) | Marcel | Florrie |
| Turquoise Class (Year 2) | George B | Zuriel |
| Violet Class (Year 2) | Alex | Ayanah |
| Birch Class (Year 3) | Mohammed | Hazel |
| Cedar Class (Year 3) | Kei | Manuella |
| Holly Class (Year 3) | Mollie | Folarin |
| Rowan Class (Year 4) | Layal | Gokhan |
| Hawthorn (Year 4) | Gabriel | Edward |
| Lime Class (Year 4) | Maxwell | Joe |
| Hazel Class (Year 5) | Tamila | Thiago |
| Sycamore Class (Year 5) | Lucy | Nicole |
| Willow Class (Year 5) | Jemima | Sophia |
| Larch Class (Year 6) | Neo | Polly |
| Oak Class (Year 6) | Quldre | Jay'Vaun |
| Beech Class (Year 6) | Xavier | Gamu |
Easter holiday clubs and free food for kids!
Please click here to read more about a FREE gardening club at Brigstock Allotments.
There are a number of restaurants offering FREE or £1 meals for children over the Easter holidays: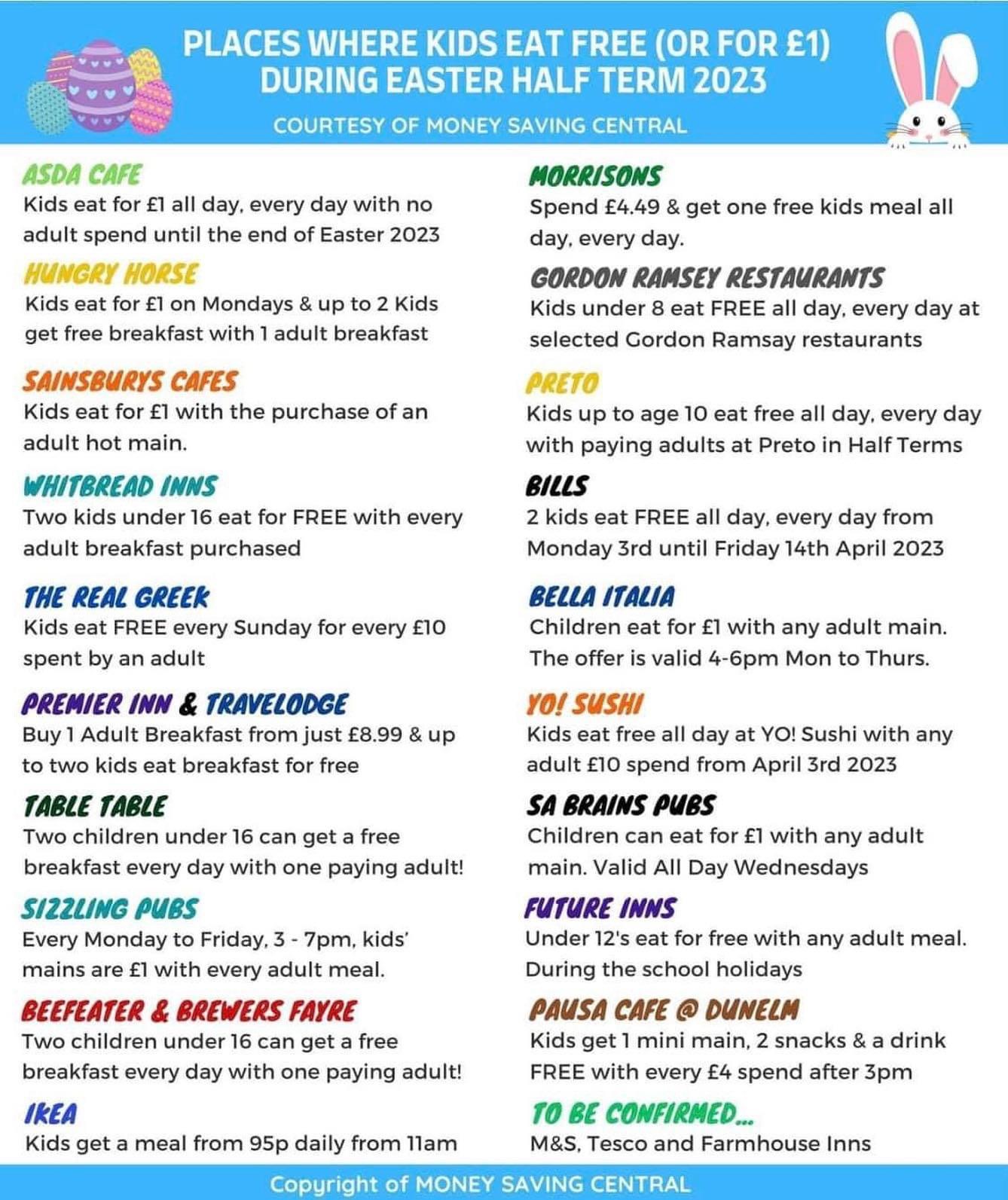 Over the Easter holidays Croydon Council is running lots of holiday clubs.  If your family is entitled to Free School Meals, these clubs may be free for you.  Thousands of Croydon children who are eligible for and claiming benefits-related free school meals can now sign up for free activity clubs with healthy meals over the school holidays. Please click here to visit the website and contact the club you're interested in directly to sign up.  Open to eligible children and young people aged 4 to 16 years, all programmes will provide:
free, nutritious and tasty food
fun physical activity sessions
a wide range of other exciting activities to suit different ages and personalities
opportunities to learn more about food and nutrition for children and their families
We wish all our families a safe and relaxing holiday and look forward to welcoming you back to school on Monday 17th April.
Mrs Sorensen, Ms Binks and the Cypress Team