Welcome to week 6 of Year 6 learning!
New Technology Alert!!!
This week, you will notice that we are trialing use of Google technology.  Mrs O'Connor and Mrs Prideaux have both created narrated Google Slides, and at 11am on Wednesday 3rd June Mrs O'Connor will be attempting to host a LIVE – you read that correctly, LIVE from her house to yours – lesson on long division.  Please do join her – she can't wait to see lots of your eager to learn faces!
In order to access this meeting and the narrated Google Slides, you will need to be logged in to Google.  You can do so using you .306 username followed by @gsuite.pegasusacademytrust.org.
eg: jsmith5.306@gsuite.pegasusacademytrust.org
Your password is the password you normally use with your .306 username.  These are the same as the login that you use to log into the school computers.
Please find detailed instructions (with screen shots) of how to log in to Google here: How To Sign Into Google And Access Google Meet
Once you are logged into Google, you should be able to simply click on the relevant link in the sections below and you will be taken to the narrated Google Slides.
In order to access the LIVE lesson, you will need to log in to Google as above but you will then need to go into your class blogs where your teacher will have shared the nickname you need to enter the meeting.
You can then click on this link to open Google Meet: https://meet.google.com/
Next, you will then need to click on the button called 'Join or start meeting'.
When you  are asked to enter a meeting nickname, please enter the nickname your teacher provided on your class blog.
You should now see a screen with yourself in it (if your camera is working – you can still enter if its not) next to a green button called 'Join now'.  Once you click on this button you will enter into the meeting. 
The link to the document above called 'How to log on to Google and access Google Meet' contains detailed instructions and screenshots on how to do this as well.
If you have any problems on Wednesday, please post them on your class blog and your teacher will do their best to respond immediately so you can access the meeting.​
Or you can contact your teacher through the year 6 email: yr6@pegasusacademytrust.org.
Here are some pictures of the wonderful work you have sent us.  Please keep them coming!!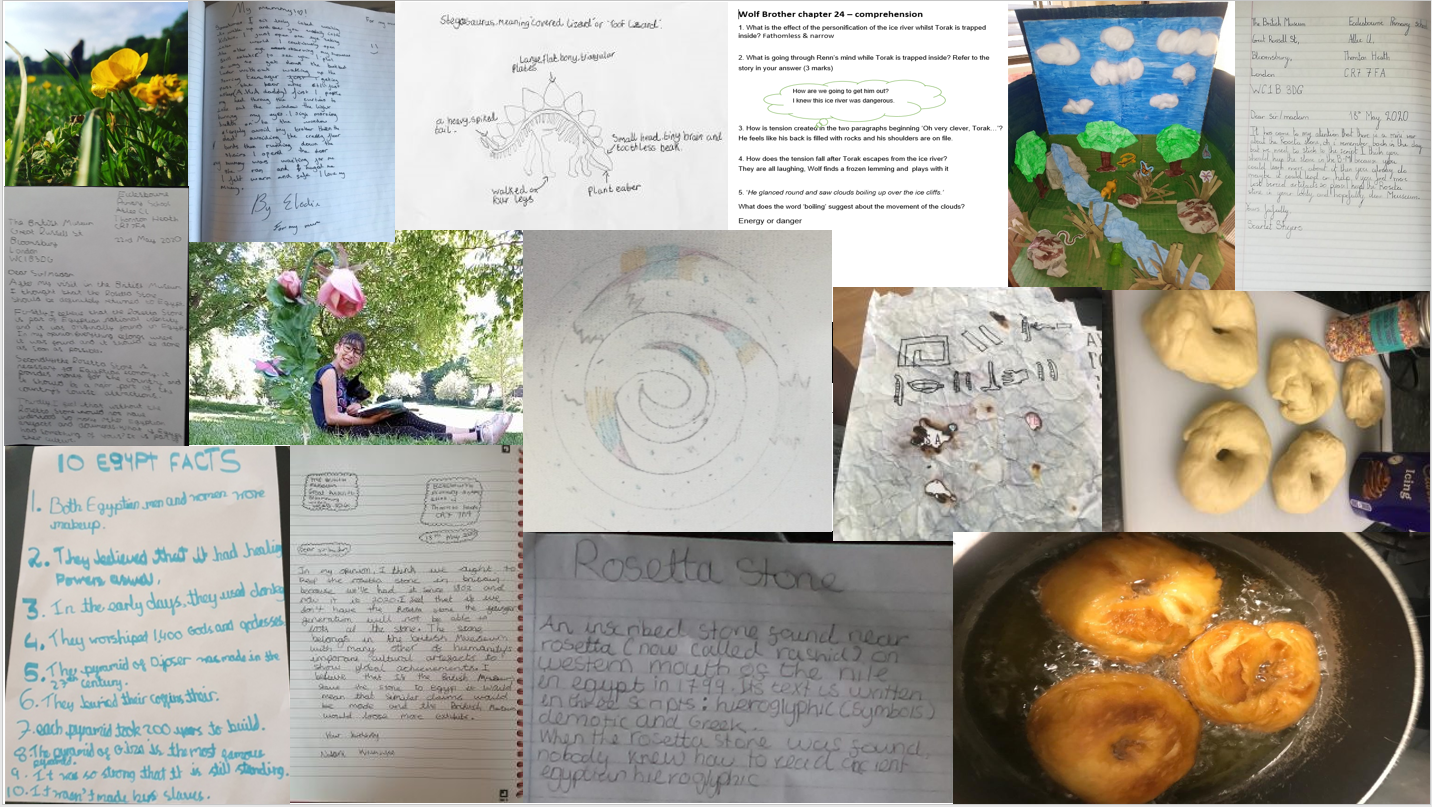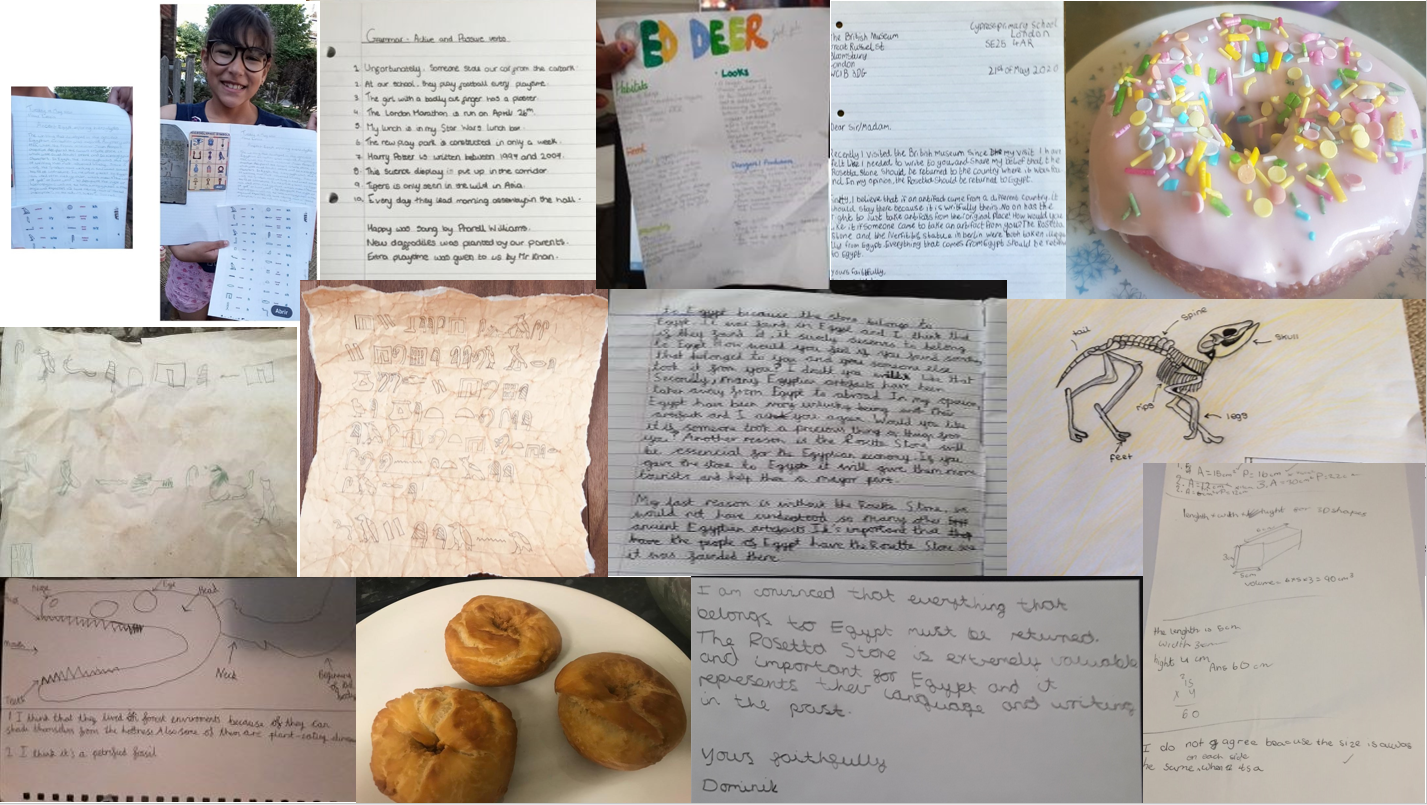 Please keep sharing your work on your class blog or emailing us at yr6​@pegasusacademytrust.org.  You can also use the class blogs to contact your teacher with any questions you may have about the work.
We are also pleased that we have continued to speak to so many of you on the telephone – we have been greatly enjoying the tales of all the things you have been doing to keep yourselves busy during lockdown.
The Year 6 teachers have been working hard this week to create another week of fun and challenging tasks for you to get your teeth into!  As with last week, each day you will find 3 tasks which should take 45 minutes – simply click on the relevant day below.  Under the tab for each day you will find: a mathematics task; a literacy, reading or grammar task; and a task relating to thematic, science or RE and PSHE.  Don't forget to look in the 'Extra Activities' tab where you will find links to fun Music, P.E. and other activities.
This week, in addition to the mathematics tasks and English tasks, we will be looking at the evolution of the giraffe and comparing how 2 different rivers have helped to shape human life.
Here is an overview of this week's learning:
| | | | |
| --- | --- | --- | --- |
| | Session 1  | Session 2 | Session 3 |
| MONDAY | Arithmetic – Miss Mangroo's Marvellous Maths | Reading text and questions – The Garden of Doom comprehension. | Geography – Comparing how rivers have shaped human life. |
| TUESDAY | Mathletics – complete 3 activities set by your teacher. | Writing task – Year 6 collaborative writing project based on the animation 'Belly Flop'. | Geography – Comparing how rivers have shaped human life – which river is the best? |
| WEDNESDAY | 11 am: LIVE ARITHMETIC LESSON – Join Mrs O'Connor LIVE to learn about long division. | Grammar – Using speech punctuation. | Science – Evolution: how the giraffe got its long neck. |
| THURSDAY | Reasoning – Understanding fraction, decimal and percentage equivalence. | Editing task – Year 6 collaborative writing project based on the animation 'Belly Flop'. | PSHE – Creating positive relationships. |
| FRIDAY | Maths investigation – Can you be a spy and 'Crack the Code'? | Reading – Wolf Brother video and questions. | Art – How to draw a giraffe. |
Why not have a go at the Trust-wide task for this week?
FLAG CHALLENGE
This week we would like you to explore flags of the world.
Maybe you could see how many flags you are able to create with any Lego that you may have at home. If you don't have any Lego, try painting, drawing or making collage flags?
You could design a flag quiz – as a PowerPoint slide show or using printed images – and test your friends and family.
How many flags and capital cities do you know?  How many can you learn before the end of the week?  Use the Twinkl poster in the Extra Activities section to help you.
Don't forget to send your flag challenge creations to your home learning email address.