Welcome to week 4 of Year 6 learning!
Thank you so much for all the pictures of your wonderful work that you have sent in.  We've received so many this week that we've had to make a photo montage to share them!  The Year 6 team are absolutely thrilled that you are enjoying the work and that you are sharing your successes with us.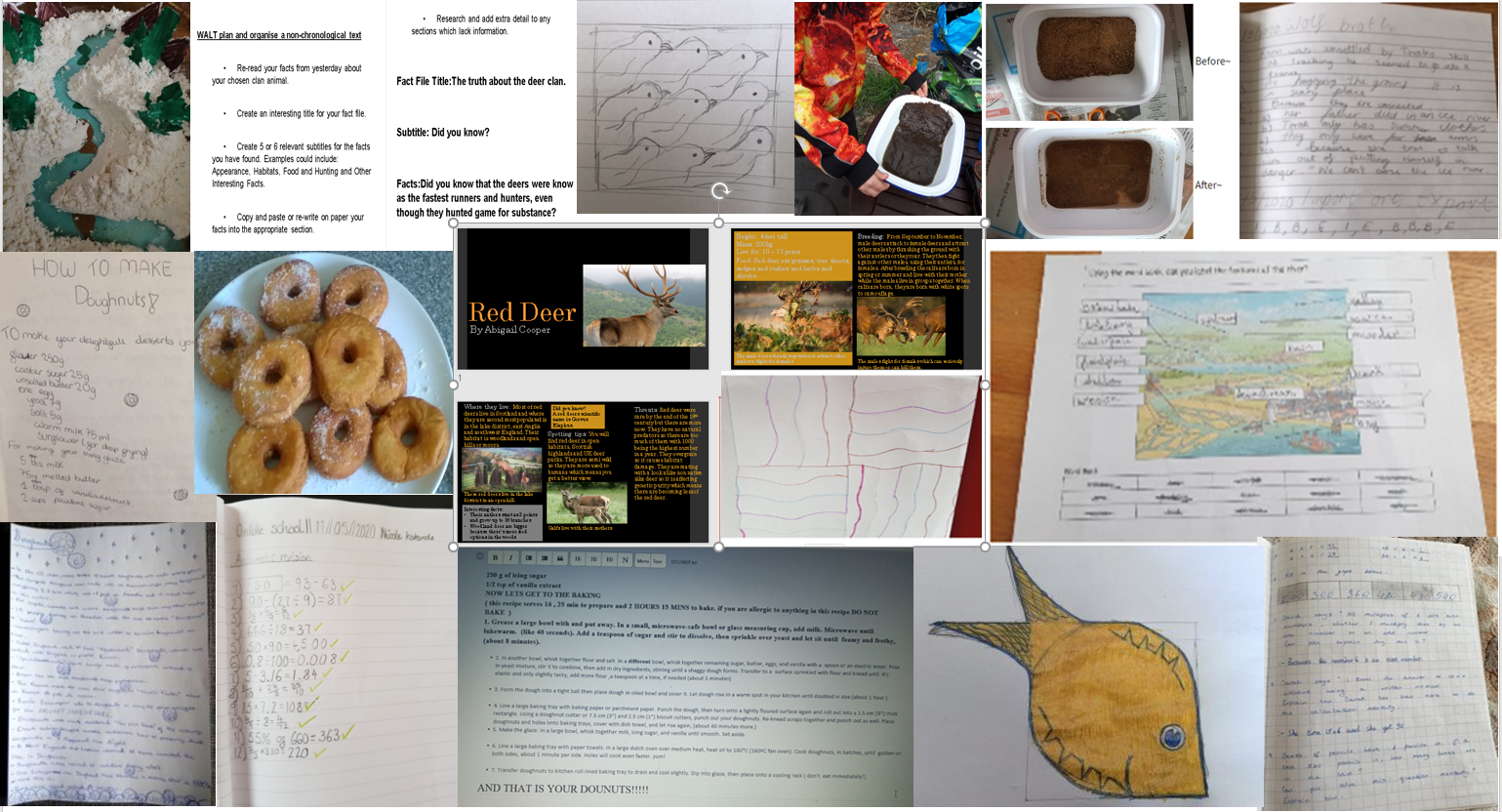 Please keep sharing your work on your class blog or emailing us at yr6​@pegasusacademytrust.org.  You can also use the class blogs to contact your teacher with any questions you may have about the work.
We are also pleased that we have continued to speak to so many of you on the telephone – we have been greatly enjoying the tales of all the things you have been doing to keep yourselves busy during lockdown.
The Year 6 teachers have been working hard this week to create another week of fun and challenging tasks for you to get your teeth into!  As with last week, each day you will find 3 tasks which should take 45 minutes – simply click on the relevant day below.  Under the tab for each day you will find: a mathematics task; a literacy, reading or grammar task; and a task relating to thematic, science or RE and PSHE.  Don't forget to look in the 'Extra Activities' tab where you will find links to fun Music, P.E. and other activities.
This week, in addition to the mathematics tasks and English tasks, we will be looking at the Rosetta Stone and hieroglyphs as well as investigating fossils.
Here is an overview of this week's learning:
| | | | |
| --- | --- | --- | --- |
| | Session 1  | Session 2 | Session 3 |
| MONDAY | Arithmetic – Mrs OConnor's Marvellous Maths | Reading text and questions – Persuasive Writing comprehension. | History – Understanding the Rosetta Stone! |
| TUESDAY | Mathletics – complete 3 activities set by your teacher. | Grammar – Using modal verbs in persuasive writing. | History – Ancient Egypt: exploring hieroglyphs. |
| WEDNESDAY | TT Rockstars and times tables tasks | Writing task – Understanding the features of a persuasive letter. | Science – Evolution: investigating fossils. |
| THURSDAY | Reasoning – Converting between fractions and percentages. | Publishing task – Writing a persuasive letter about the future of the Rosetta Stone. | PSHE – Creating positive relationships. |
| FRIDAY | Maths investigation – Andy's Lost Marbles! | Reading – Wolf Brother video and questions. | Computing – We are Network technicians! Looking at how information is sent and received between computers. |
Why not have a go at the Trust-wide task for this week?
This week, we are challenging you to get your camera out and have some 'Adventures in Perspective!'.  Ms Byrne has all the details here:
There will be a prize awarded to the best photo from Key Stage 1 and Key Stage 2 – the winning 2 photos will be made into a canvas and sent to the winners to enjoy with their family. What a wonderful momento!! So get involved and send your photo to yr6@pegasusacademytrust.org –  we can't wait to see your pictures.