Hello to all our Nursery/2YO Parents, Carers and Children,
We hope you all had a good weekend and welcome back to Summer Term, Week 3 of our Nursery/2YO Home Learning. All the staff are missing you and hoping you are keeping well, safe and happy.  There is some important news in a post from Mr Roberts here about our plans to begin telephoning children at home from this week so please make sure you have read this.
Our theme for this half-term is 'Down on the Farm' and we hope you enjoyed some of the activities from last week all about The Little Red Hen. What was your favourite activity? Please remember to send any photos of work you are particularly proud of to our new dedicated Nursery email address:
nur@pegasusacademytrust.org
We have loved seeing some of the work you have been doing at home so far. Here is Ted from Cypress with his painting of Miss Chapman! We can see you've written your name beautifully on your fabulous painting, Ted – well done!
The photo below is of George from Cypress Nursery and his big brother Jack, who have been looking after their caterpillars which recently turned in to beautiful butterflies. The boys have named them: Keith, Sammy and Charlie and are going to look after them for a few more days before releasing them.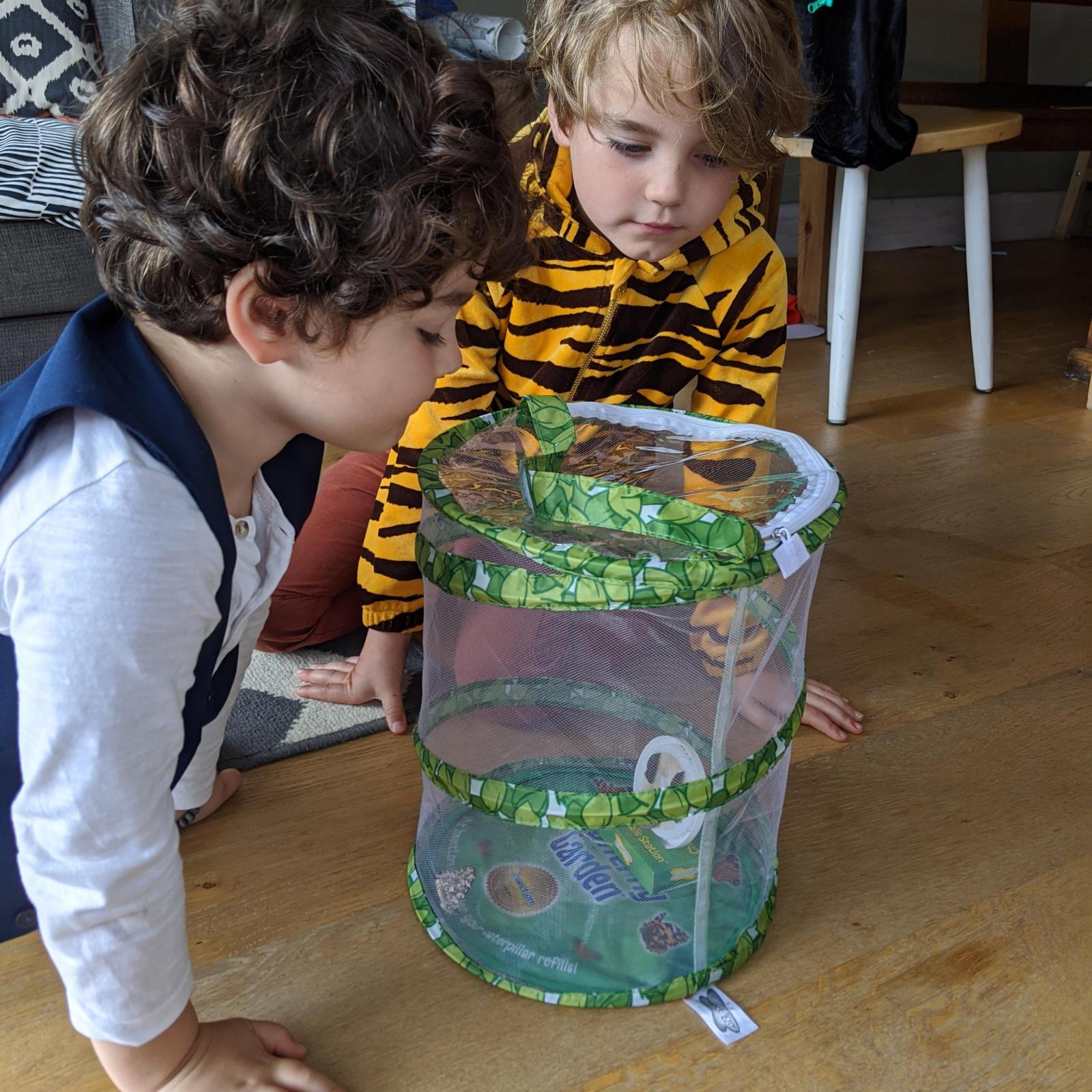 Until we return to school, we will be posting daily activities over each week for the children to have a go at. For many, these may be simply starting points from which other activities may develop. They are not compulsory; do whatever captures the interest of your child and the main point is to make the tasks fun! We will add a new set of activities each Monday.
There is a timetable below for an overview of the week's activities at a glance.
Each week, a whole Trust challenge will be set for all children from nursery to Year 6 to complete.  This week's challenge is to have a go at making the BBC Great British Bunting in honour of the VE Day 75 commemorations and this activity will be on Thursday. 
We also know how important it is to get our daily exercise, so we will be including some fun workouts as well! We are going to try some fun yoga and other things to get us moving this week.
There are also some activities for you to print out, if you have access to a printer, but these are entirely optional.
We all hope you have a good week and remember we are one week closer to seeing each other again.
The Nursery/2YO Team
Monday 
Tuesday
Wednesday
Thursday 
Friday 
Activity 1

Kids' Yoga

(The Farm)

Kids' Yoga

(Three Little Pigs)

Kids' Yoga 

(Hoppit the Hare)

Kids' Yoga

(Frank the Frog)

Bank Holiday for

VE Day 75

Activity 2
Watching, re-telling and drawing/writing favourite part of Three Little Pigs story
Making houses out of different materials
Numberblocks 3 and discussion
Collection of pink objects and counting

Bank Holiday for

VE Day 75

 Activity 3 
Learning and reciting/counting of This Little Piggy Nursery Rhyme
Stick transient art
Collections of 3/Counting
VE Day 75 Great British Bunting

Bank Holiday for

VE Day 75