Following on from the success of our project to get Chromebooks to the families that need them, this week the emphasis has shifted to data.  Thanks to a wonderful offer from Vodafone UK , we have been able to place roughly sixty  4G 'dongles' with families in need.  This means that for every family in the Trust there is now no obstacle to joining in with our online offer on GoogleMeets and Blogs.  Our IT team, led by Mr. Chitty at Cypress, have done a sterling job and tell me that there are now only a few access enquiries each day (via the e-mail address getonline@pegasusacademytrust.org) meaning logins are not an issue either.  As proof of this, a number of our classes have achieved some 100% attendance days this week including all the Year 2 classes at CYP Lower and Sycamore class at BRIG.  Our aim is to work with 100% of our children each day so hopefully the improved data situation should help in this.  We are also now acting as an intermediary for the DfE's snappily named 'Increasing data allowances on mobile devices to support disadvantaged children' scheme which you can read about and apply for here if you are eligible.
In terms of our online offer, we are busy equipping teachers with visualisers that will allow them to work more effectively from home.  In case you don't know what I mean, visualisers are a piece of IT equipment that allow teachers to model what they are doing to the children and are especially useful for looking at books or 'making' projects.  They look like this: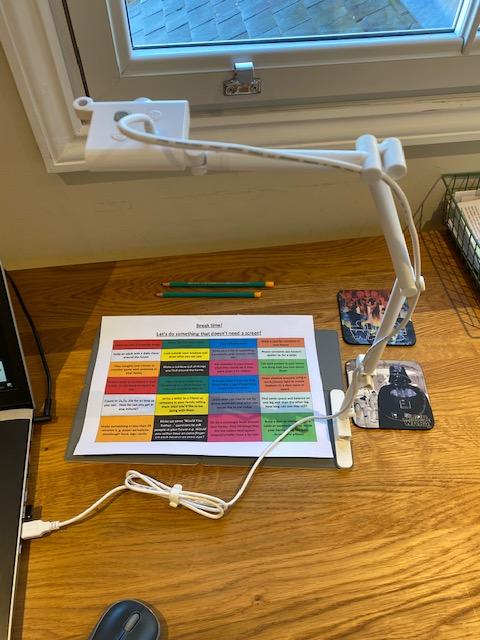 … so this should improve our offer still further.  We are also trialling virtual stickers for lovely work and continuing to explore the possibilities of Google Classroom.  Last week the Trust ran 1,739 GoogleMeets at an average duration of 50 minutes which is again impressive.  For those who are unaware, the Teaching Assistants within the Trust are running interventions with their normal children via GoogleMeet as well in phonics or reading or maths.  We are very lucky to have such capable staff.  ??  As usual if you wish to contact them or thank them you can do so via your child's blog.
Health and fitness week
Next week, the Trust will undertake a health and fitness week across all of our classes.  On Monday, Wednesday and Friday next week, registration will start at 9:30 rather than 9:15 so that we can all take part in 'PE with Joe (Wicks)' live on his YouTube Channel. Follow this link  to join in.  Children may then attend their live classes in their PE kit and judge for themselves whether their teacher has just done the same workout or not!  We also have a fitness challenge where children may share their endeavours on their blog (click here for details) and some activities and assemblies related to health and fitness.  We hope you enjoy what we have planned.
Site upgrades
The work to keep our schools looking good continues even though the children are not on site at present and we are extending the useable area at Cypress in the Forest school area to include a pond.  We continue the work to relocate the school office at CYP Upper so that we can turn the existing office into a library by the beginning of the next academic year.  Painting of the hall at Ecclesbourne is underway to freshen that area up.
Critical worker provision
Critical worker 'bubbles' are as vulnerable as any other teaching group to closure and unfortunately this was brought home this week when a positive case at Ecclesbourne meant that the critical worker provision had to close.  Where we can, we are subdividing provision to make it less vulnerable but with a number of staff still away from work we can only do this where we can staff it safely.
COVID testing of staff in our schools
This week a great deal of leadership time has been taken up with preparations for the impending start of the new twice weekly COVID testing for school staff using the Lateral Flow Device test.  This will give staff and parents further assurance that there are no asymptomatic staff on site who may pass on COVID to each other or to the children.  Once this is in place, we very much look forward to an extended period with no new central government requirements so that we can concentrate on our core purpose – to provide excellent teaching and learning to our children.
I wish you all a safe weekend and look forward to seeing the children online at 9:30 on Monday following their workout with Mr. Wicks
Jolyon Roberts
Executive Headteacher