Hello readers, members of our 'Year-Paw' book group.
Today, I am delighted to introduce Mrs. Chapman reading, just for you, chapter 5 of our cat adventure.
'Slow-Time.  Moving-Circles.  Shadow-Walking.' 
Few! I haven't forgotten those strange, new words and phrases that were introduced to Varjak by Elder Paw yesterday.  I remember too, that they were originally Jalal's words, and which he called the Way.  I really hope Varjak can remember them too.
And all that talk about the outside and dogs.  Its all getting very intriguing indeed.
'Luckily we can now hear the next instalment of this wonderful story.'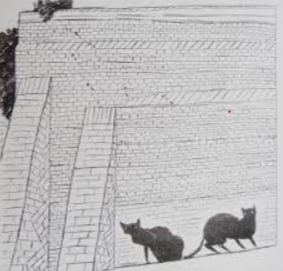 'And so, without further delay, choose your comfortable spot, sit back and relax, and enjoy chapter 5 of Varjak Paw…'