UPDATE #8 23/03/20 – A very weird Monday
So the first day of the shutdown is here and many of us are now working from home or coping with an entirely new set of arrangements.  I want to thank all of you who have been in touch with thanks for the work that Pegasus staff did last week and are continuing to do to keep the children engaged and learning.  We have now added a timetable at the bottom of this page to try to give parents and carers some structure as to what they might be doing at different times of the day.  The timetable includes an e-mail address where children or parents can send us in pictures of them engaged in home learning.  To kick us off here are  Ernesto, Pietro and Antonio who decided that since it was a school day they would put on their Cypress uniforms as usual and are seen hard at work here.  I imagine this same level of effort lasted all day?
News stories are being regularly updated by teachers and year group leaders with suggestions for things to do and there's some lovely stuff there so do check whenever you can.  We hope to release more details shortly of how children can contact their teachers and classmates more directly so please watch this space.  Finally there's been a lot of comment online today about how we should all stay at home a lot more and socially distance ourselves – by at least 2m.  We want to see all our families back safe and well after this is all over so we have to accept that if you're in a park with a lot of people milling about you are putting yourselves in danger.  Many of the teachers in the Trust have not left home AT ALL this weekend and parents and carers should only leave for absolute necessities.  It's only the first day of what could be a very long stretch.  Stay home and save lives.  👍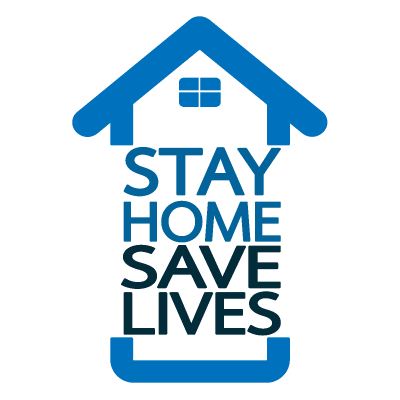 UPDATE #7 22/03/20 0730
A message from the education secretary.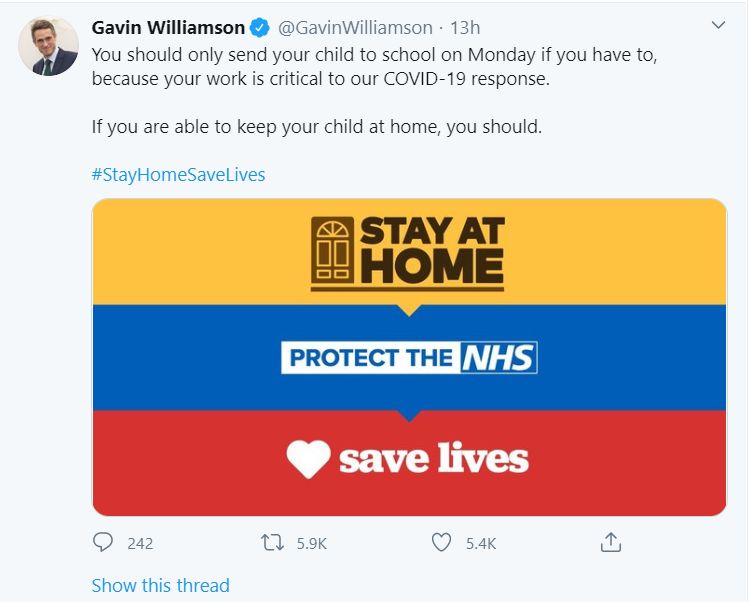 UPDATE #6 21/03/20
I have spent the last three days working absolutely solidly with colleagues on requests for places for 'keyworker' children.  We cannot possibly meet the expectation that is being placed on us and still maintain any semblance of safety for both the staff and children that attend.  The government key worker guidance gave some very good advice in the introduction:
'the fewer children making the journey to school, and the fewer children in educational settings, the lower the risk that the virus can spread and infect vulnerable individuals in wider society'
… but unfortunately many people scrolled past this, went straight to the list and then assumed that they would get a place.  To be clear we are being asked to provide places for 'a limited number of children' and have tried to prioritise the most needy and those families with two key workers, working full time using a tiering system.  This information has been on this page for days and all parents have had texts linking to it.  If we have a huge provision it is clear that children and the staff looking after them will not be safe – that is the whole point of closing the schools.  Over 40% of our staff are already off work as they are pregnant, self isolating, live with elderly or vulnerable relatives or have pre-existing medical conditions.  The only way we can staff key worker provision is through asking for volunteers as effectively the state have said 'although everyone else should keep themselves safe by isolating at home, staff in education are still expected to work in schools in a larger group',  We are acutely aware it would only take one child or member of staff in that provision to have the virus to pass it to others and then affect a whole group of the most needed keyworkers – mainly medical staff.  That is plainly counterproductive and dangerous.  This is not in any way 'business as usual'.
We have had to ask some quite blunt questions to try to tier applications but are not getting straight answers.  It is crystal clear that the safest place for children to be is at home which is why none of our staff volunteering are allowed to bring their own children to school. These places are for the very most needed staff in the emergency services and at the critical care end of emergency work, dealing with Coronavirus and with ABSOLUTELY NO OTHER ALTERNATIVES.  They are not for:
families where one parent or carer is actually available but just doesn't want to look after the children;
families who could use other sources of childcare – aunts, uncles, neighbours or childminders but don't want to ask or pay;
families who work part time but are asking for full time places;
workers whose managers are putting pressure on them to physically attend work when they could actually work at home;
those whose work at this time could be feasibly delayed until the emergency has passed (e.g most students)
We will be writing to those tier 1, 2 and (some) tier 3 parents and carers offered a place tomorrow (Sunday 22nd March) with details of the provision.  There are 35 places to be allocated.  We will ask all applicants to confirm that points 1 – 5 apply.  If you accept a place and these points do not apply then you are taking a much needed place away from another applicant.  Please think about the morality of this in a time of national emergency.  We want to sustain this provision for weeks and even months and school staff need to stay well to ensure they can do this.  Jolyon Roberts
UPDATE #5 19/03/20 2200
In the penultimate day before the shutdown attendance dropped to just 52%.  Lynne visited classes in the Trust to thank staff personally for their commitment and their determination to ensure that the last days in school for who knows how long are spent happily and productively.  Many of you have said the same.  We must mention that while many primary teachers are not great fans of the KS2 SATs it was tremendously disappointing for many hardworking Year 6 pupils and staff when they found out yesterday that all they had been working towards in May would not happen and the SATs had been cancelled.  If you are set on a target or goal and putting all your energy into that it takes some readjustment when you find out that this is not going to happen.  We applaud all the great work that has gone on this year in Year 6 and know that this learning will stand our pupils in good stead for the future.  A great, great team.  Pegasus updates:
We waited for clarification this evening from the PM on his proposals for keyworkers but there was none – despite much confusion.  The promised guidance document on keyworkers did not appear either.  What is clear now is that we cannot turn around our keyworker provision in time for Monday 23rd and thus Tuesday the 24th will be the earliest start date.  It is also clear that we cannot meet the huge demand for this provision from keyworkers whilst still maintaining social distancing and safety – which is the whole point of the shutdown.  We are prioritising care for the children of those directly involved in the fight against the Coronavirus and other medical staff and have updated our guidance document with a 'tiered' system in order to be transparent about how places will be allocated.
The news this evening from Italy was extremely worrying as was the fact that over half the Coronavirus fatalities in the UK yesterday occurred in London.  We urge all parents and carers to use the time of the shutdown to really enforce social distancing.  The safest place for children from Saturday morning is at home with no visitors – especially the over 70s.  This is not an early holiday it is a very dangerous medical emergency and we should not treat it lightly.
UPDATE #4 – 19/03/20 0630
Following the announcement by the Prime Minister and Education Secretary last night all Pegasus schools will be closed from the end of the school day on Friday 20th March for an indefinite period.  Families are expected to undertake a period of social isolation and we know from our falling attendance figures (just 72% yesterday) that many have already chosen to do so.  From this point onwards it is up to each family to make the choices that are right for them as regards when to socially isolate and no further advice from the Trust about attendance will be issued.  Pegasus updates:
As per the prime Ministers announcement we intend to offer childcare for the children of keyworkers only.  Keyworkers who have identified themselves and meet our criteria will be notified in a separate e-mail.  Criteria may be updated later today as more information becomes available.  Key worker provision will be offered from the Whitehorse Manor site and all other sites will be closed to children and staff;
We are awaiting details but it may be that we are able to offer assistance for children on free school meals in some regard.  In order for you to benefit from this we must have your CORRECT CONTACT DETAILS.  If you have changed address or phone recently you should contact your school office immediately to ensure that we can stay in touch.  All school offices will be shut from Monday and you will not be able to ring in.  Please make this a priority.
Senior Citizens (including grandparents).  It is clear that Coronavirus affects older people much more severely than others.  This situation in Italy is extremely concerning and to protect our senior citizens it is important that during this time of shutdown children should not be placed in the care of older relatives such as grandparents.  This is one of the most important things that we can do as a school community right now and whatever care arrangements parents and carers put in place for this period they SHOULD NOT INVOLVE GRANDPARENTS.  At the same time parents and carers should be aware that the elderly are likely to be self isolating for many, many weeks so ADULTS please consider how you might be able to safely help older neighbours (bringing shopping to their door or by telephoning for a chat) in the same way that many grandparents are being helped all over the country and internationally by their neighbours.  We are a strong community and when we eventually return we want to see everyone safe and well.
There is a briefing for Headteachers at Croydon Council today and more national guidance expected so we will update here later today.  Best wishes to you all and stay safe. Jolyon Roberts and Lynne Sampson
UPDATE #3 – 17/03/20
Once again all our schools were open for all age groups today although staffing is getting more and more difficult.  If you happen to meet one of our senior leaders outside of school tomorrow morning do give them a safe, low risk greeting as they are performing miracles every day to keep the schools fully staffed and functioning:
As an example of this one of our schools had 13 members of staff away today for various Coronavirus related reasons.  Today's updates from Pegasus are as follows:
Pregnant staff, those with children or relatives at home who have the symptoms of the virus and those with some pre-existing medical conditions have now been advised not to attend school.  This has markedly reduced our staff levels but we are still at or above the correct ratios.  We would like to thank all our staff for their flexibility and positivity which was never more apparent than at the Year 3 caveman experience today at Ecclesbourne.  Staff and children dressed up and joined the cave dwellers for activities in small groups just as we normally do at this time of year.  We are trying to keep to a normal timetable but this is becoming increasingly difficult;
We have had to combine some classes today in one of our schools as staffing was low;
Attendance was 80% today so way below normal but it was good to see all those who attended.  As we have repeatedly said we will endeavour to remain open for as long as possible.  Those who are not at school can undertake online activities via our online learning page.  Login details should be in your child's reading diaries or you can e-mail getonline@pegasusacademytrust.org during normal working hours.  It shouldn't need saying but if you family is self isolating you should NOT ATTEND SCHOOL AT ANY POINT including the end of the day.  Self isolation is a 24 hour, 14 day process – not daytime only.  Please respect this as this is a very serious matter.
The Year 6 team have created a online page of their own with activities for online learning for Year 6 pupils in self isolation.  See the whole selection here;
We have now been contracted by a number of keyworkers regarding offering them help in the event of a total shutdown of schools.  If your job or profession appears on our list at the bottom of this article then please get in contact at the e-mail address keyworker@pegasusacademytrust.org, preferably from your work e-mail address, so that we can compile a mailing list.
Unless there is further advice from the government tonight to the contrary we will see you all tomorrow.  Jolyon Roberts and Lynne Sampson
UPDATE #2 – 16/03/20
School took place as normal today – albeit with a slightly surreal atmosphere in the light of national and international news.  We await the first of the Prime Minister's daily news briefings but are following the daily advice issued to us by the Department for Education which says that 'no education or children's social care setting should close in response to a suspected or confirmed COVID-19 case unless advised to do so by Public Health England'.  Staff attendance was good today and morale remains high. Today's updates from Pegasus are as follows:
We are inviting Keyworkers to make themselves known to the Trust via a new e-mail address keyworker@pegasusacademytrust.org explaining their particular job role and circumstances.  In the event that our schools do have to close we are considering what help we may be able to offer to keyworkers.  Key workers would include NHS frontline medical staff, key responders like police or paramedics and anyone else who undertakes work critical to the safety and continued wellbeing of the population.  If you fit one of these categories you should get in touch – we may be able to help;
It is imperative that if your child begins to show symptoms of a cough or high temperature at school that you arrange to collect them with all due haste to protect the other children and staff at our schools.  Please consider what these arrangements might be should we have to make that call.  Parent and carers of children sent home should follow the 'Stay at home guidance' issued by Public health England.  If they develop symptoms at home they should stay at home.  The indicated symptoms are a new, continuous cough or a high temperature.
We are fully prepared for online learning should it be required and have many resources already available that we pay for.  You can remind yourselves about what these are here. Should it be necessary more guidance will follow.  However, if your child has not logged in to these resources for a while you may wish to check that they have access.  Their passwords will be in the front of their reading diaries.  Should you be experiencing difficulty you can ask your class teacher or e-mail getonline@pegasusacademytrust.org.
Parents and Carers can rest assured that our schools will continue to follow government guidance and will keep working as long as we can.  See you all tomorrow.  Jolyon Roberts and Lynne Sampson
UPDATE #1 – 13/03/20
As of yesterday, 12th March 2020, the government has announced that they have moved the action planning for COVID-19 into the 'delay' phase.  In response to this The Pegasus Academy Trust will be implementing some measures, in addition to those mentioned above, from next Monday 16th March in order to ensure that children continue to be as safe as possible.  These are as follows:
Daily assemblies for whole schools or Key phases (Infant or Junior) will no longer take place.  Class teachers may cover the planned subject matter by arrangement with their head of school;
Halls will be thoroughly ventilated during lunch time sittings with windows and doors open.  If this means that if children need to wear a coat at lunch time (not always allowable under normal circumstances) then this will be permissible;
The parents evenings planned for Tuesday 17th and Wednesday 18th March next week will be postponed.  This is because they will involve adults from outside the school attending after the normal cleaning routines of the school have been completed.  We do feel that all non-essential gatherings are best left until this outbreak has subsided.  If parents have a particular pressing issue to discuss they should be able to arrange to meet with the class teacher but these meetings must take place before 5PM.
Increased vigilance around new continuous coughs or temperatures above 37.8 degrees.  We ask that any parent or carer who is asked to collect their child/ren come to school as quickly as they can in order to keep others safe.  The parents or carers of children sent home should seek appropriate medical advice.  If these symptoms are apparent at home DO NOT BRING THE CHILD INTO SCHOOL.
Continue to monitor and follow Government advice regarding best practice.  The staff at the Trust are fully aware that it is imperative that schools stay open in order to allow parents and carers to continue to work – especially those who are key workers.  Staff attendance has been excellent so far and morale is high.  We will continue to update here as the situation changes. Jolyon Roberts and Lynne Sampson 
With national media attention on the UK's response to the threat of Coronavirus the senior leaders of the Trust would like to tell parents about the measures undertaken at our schools so far in order to minimise any risk to our pupils from this virus.  The UK follows the approach recommended by the World Health Organisation (WHO) and other expert bodies with a four stage approach and we are still in the first of these stages known as 'contain'.  This stage is described in official guidance as: 'detecting early cases, following up close contacts, and preventing the disease taking hold in this country for as long as is reasonably possible' . 
We can all play our part in this by making sure that we follow the government's advice if anybody we have been in contact with has recently returned from abroad, especially the countries listed on the advice page.  In addition if any parents or carers have been asked to not attend work as a result of a possible contact there they should exercise all due caution, follow NHS ADVICE and be extremely aware if they are experiencing any symptoms of the virus namely any:
cough;
difficulty in breathing or
fever
The guidance we have been given tells us that 'Contacts are not considered cases and if they are well, they are very unlikely to have spread the infection to others'.
At the schools within the Pegasus Academy Trust we are doing all we can to help prevent the spread of the virus by encouraging good hygiene.  We have:
completed a series of assemblies and class lessons on the importance of hand washing and how to do it properly;
worked with our cleaners and contractors to raise the standard of our daily cleaning routines to give particular attention to door handles, taps etc.
been stricter about children washing their hands during the day – especially before lunch;
undertaken deep cleans of infrequently cleaned items like computer keyboards etc.
ensured that tissues, which are always available in classrooms anyway, are replenished and also available in lunch halls;
put advisory posters from the NHS and DfE on prominent display;
raised our levels of vigilance and shared good practice with our staff.
Recommended hand washing videos for older children are here and younger children here.
The Trust remains alive to the fact that the situation may get worse before it gets better and are working on contingency plans. If there is further news parents and carers will be updated on this website and via Twitter (@pegasusacademy) and text.  Thanks for taking the time to read this update and all your support in this matter.  Jolyon Roberts and Lynne Sampson