It has been a very busy time since the
Prime Minister's speech of Sunday 10th May​
when he announced the possible return of schools from June 1st
'At the earliest'
and even this morning things have changed again.  Today, after a week and a half of thought and planning, we are able to
share a letter
to all parents with children in Pegasus schools explaining our plans for the first classes to return to school and this letter is attached at the bottom of the page.  Please take the time to read it thoroughly. The timescales have been impossibly tight on this and we have had to gather views via our phone calls home to parents and children rather than with a full scale questionnaire. This was purely a matter of practicality and has meant that we are able to share today rather than at a later date which will allow more time for to parents to plan and consider this offer.  Full details are in the letter but a summary of changes is in this infographic: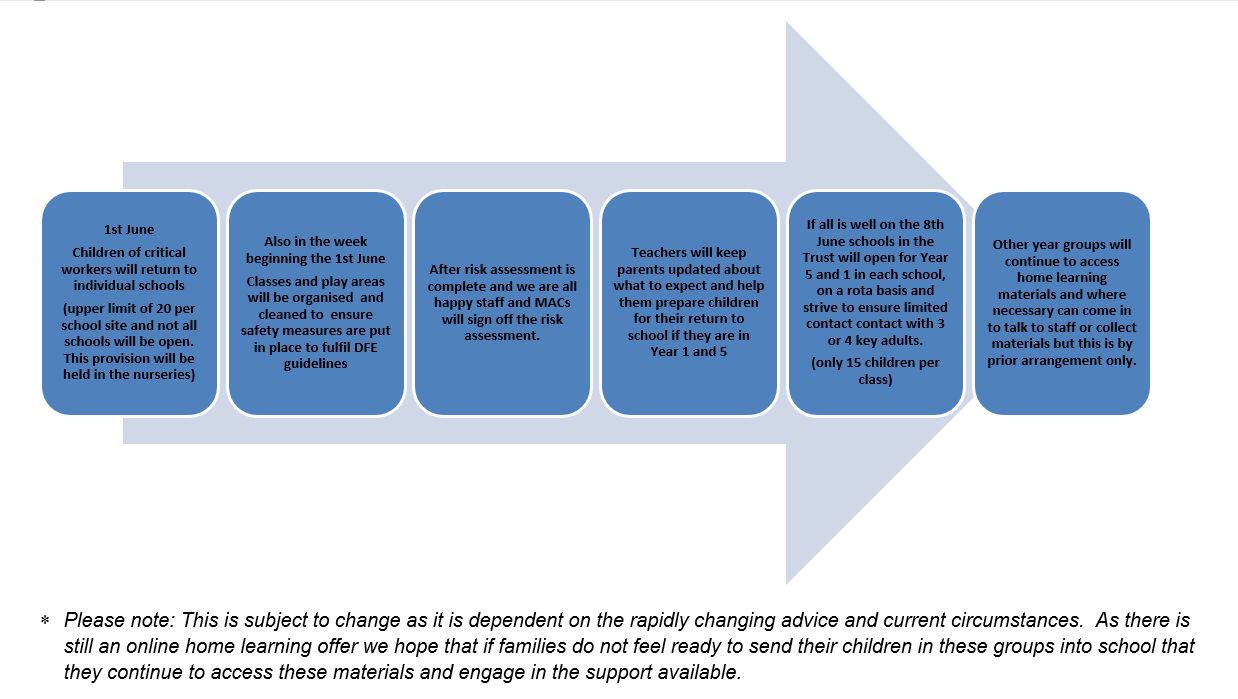 In order to be completely transparent we have also included the risk assessment that we have undertaken looking at the risks associated with the return to school.  We have described in the risk assessment all the measures that we will put in place to keep children and staff safe on their return to school.  It is for each family to judge whether these measures satisfy them regarding the safety of their children.
Families with children in Year 5 and Year 1 will now be contacted in the week beginning June 1st to discuss the next steps.  Meanwhile, if further changes in government policy mean we have to change things further we will keep in touch here.  Our plan for 'learning appointments' with teachers will then be explained further in the week of the 8th June, initially to families with children in Year 2 and Year 3.
Jolyon Roberts