Hello Everyone,
I hope you are all keeping safe and well.
As you will have seen on your class J2Bloggy, I asked you all to draw, paint or create a rainbow for me.
' Why' I hear you ask?
Well, as you look out of your window, or as you go for a short walk or bike ride (for your daily exercise), you may notice that people, both adults and children, have placed a picture of a rainbow in a window of their home.  This is a way of each community sharing (and showing) their support, kindness, hope and positivity to everyone. Rainbows make everyone smile! and a smile really does go a long way.
At Pegasus, we want everyone to remember our values during these strange times. These will keep us feeling positive and working together as a team.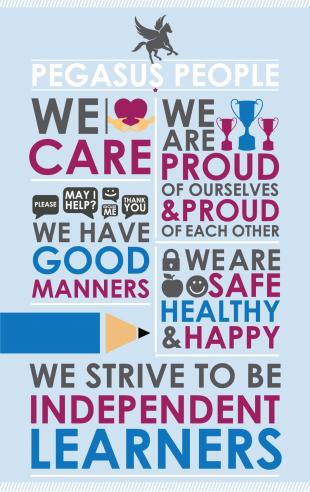 Take a look at the photos below and you will see that some of the Teachers, TAs and children at Whitehorse Manor Junior School have worked alongside their children (or independently) to create their very own rainbow. I thoroughly enjoyed creating my rainbow, I hope you do too.
Take care! Stay safe, happy and healthy. Remember to look out for those rainbows and let them remind you that we ALL need to stay positive.
See you all soon.
Miss Tye

Warning: count(): Parameter must be an array or an object that implements Countable in /var/sites/p/pegasusacademytrust.org/public_html/wp-content/themes/pegasus/includes/post_files.php on line 6

Warning: count(): Parameter must be an array or an object that implements Countable in /var/sites/p/pegasusacademytrust.org/public_html/wp-content/themes/pegasus/includes/post_files.php on line 6

Warning: count(): Parameter must be an array or an object that implements Countable in /var/sites/p/pegasusacademytrust.org/public_html/wp-content/themes/pegasus/includes/post_files.php on line 6

Warning: count(): Parameter must be an array or an object that implements Countable in /var/sites/p/pegasusacademytrust.org/public_html/wp-content/themes/pegasus/includes/post_files.php on line 6

Warning: count(): Parameter must be an array or an object that implements Countable in /var/sites/p/pegasusacademytrust.org/public_html/wp-content/themes/pegasus/includes/post_files.php on line 6

Warning: count(): Parameter must be an array or an object that implements Countable in /var/sites/p/pegasusacademytrust.org/public_html/wp-content/themes/pegasus/includes/post_files.php on line 6

Warning: count(): Parameter must be an array or an object that implements Countable in /var/sites/p/pegasusacademytrust.org/public_html/wp-content/themes/pegasus/includes/post_files.php on line 6

Warning: count(): Parameter must be an array or an object that implements Countable in /var/sites/p/pegasusacademytrust.org/public_html/wp-content/themes/pegasus/includes/post_files.php on line 6

Warning: count(): Parameter must be an array or an object that implements Countable in /var/sites/p/pegasusacademytrust.org/public_html/wp-content/themes/pegasus/includes/post_files.php on line 6

Warning: count(): Parameter must be an array or an object that implements Countable in /var/sites/p/pegasusacademytrust.org/public_html/wp-content/themes/pegasus/includes/post_files.php on line 6

Warning: count(): Parameter must be an array or an object that implements Countable in /var/sites/p/pegasusacademytrust.org/public_html/wp-content/themes/pegasus/includes/post_files.php on line 6

Warning: count(): Parameter must be an array or an object that implements Countable in /var/sites/p/pegasusacademytrust.org/public_html/wp-content/themes/pegasus/includes/post_files.php on line 6

Warning: count(): Parameter must be an array or an object that implements Countable in /var/sites/p/pegasusacademytrust.org/public_html/wp-content/themes/pegasus/includes/post_files.php on line 6

Warning: count(): Parameter must be an array or an object that implements Countable in /var/sites/p/pegasusacademytrust.org/public_html/wp-content/themes/pegasus/includes/post_files.php on line 6

Warning: count(): Parameter must be an array or an object that implements Countable in /var/sites/p/pegasusacademytrust.org/public_html/wp-content/themes/pegasus/includes/post_files.php on line 6

Warning: count(): Parameter must be an array or an object that implements Countable in /var/sites/p/pegasusacademytrust.org/public_html/wp-content/themes/pegasus/includes/post_files.php on line 6

Warning: count(): Parameter must be an array or an object that implements Countable in /var/sites/p/pegasusacademytrust.org/public_html/wp-content/themes/pegasus/includes/post_files.php on line 6