We can't believe how quickly the past eight weeks have flown by! We have now reached the October half-term break and can now look back and celebrate so many amazing achievements here at Cypress Lower School. The children, staff and whole school community have adapted so well to the new restrictions and new ways of doing things, including 'virtual' assemblies, telephone consultations between our teachers and parents/carers, social distancing as much as possible and working within year group bubbles to ensure everyone's safety. We are so proud of the way everyone has come together to make our school run so smoothly. We truly have displayed the different learning powers we have been focusing on this half term and know that this will continue when we return after half term.
School Council Meeting
This week our School Council met for their second official meeting.  They worked with Miss Wenham to discuss fundraising ideas for 'Children in Need' after half term and the importance of raising money for charity, now more than ever.  The children decided they wanted to go for a wacky fundraising idea to catch people's attention so we'll be having a PJ dress up day on November 13th (letter to follow)!  They have created some posters which will be displayed around the school after half term – check out the photos below.
Gold Awards
Today we celebrated two children in each class who received a Gold Award for demonstrating that they are resilient learners.  We celebrated their successes in our Google Meet assembly today and their photos will be displayed on our Gold Award display in the school hall for the next half term.  Please have a look at their photos below!  We are very proud of you all.
Forest School
The last sessions of Forest School this half term have culminated in camp fires with delicious marshmallows which the children toasted themselves.  What amazing determination, independence and resilience the children have shown.  If your child will be taking part in Forest School sessions next half term then you should've received a letter this week with more information.
Gold Accelerated Reading Certificates
An impressive 10 children across Lower School have achieved their Gold Accelerated Reading Certificates in the first half term!  This means they have read an amazing 100 BOOKS and recorded them in their Reading Diaries!  Mrs Parker, our English lead, was delighted to hand out certificates and prizes in a special reading assembly on Thursday and is looking forward to seeing who will achieve their Gold Accelerated Reading certificate next half term…!
Wonderful Year 1 writers
Children in Year 1 have produced some fantastic writing this week.  They thought of descriptive language relating to Autumn and then wrote some great poetry to describe this season.  Below is a photo of some of our superstar writers from Blue class – well done!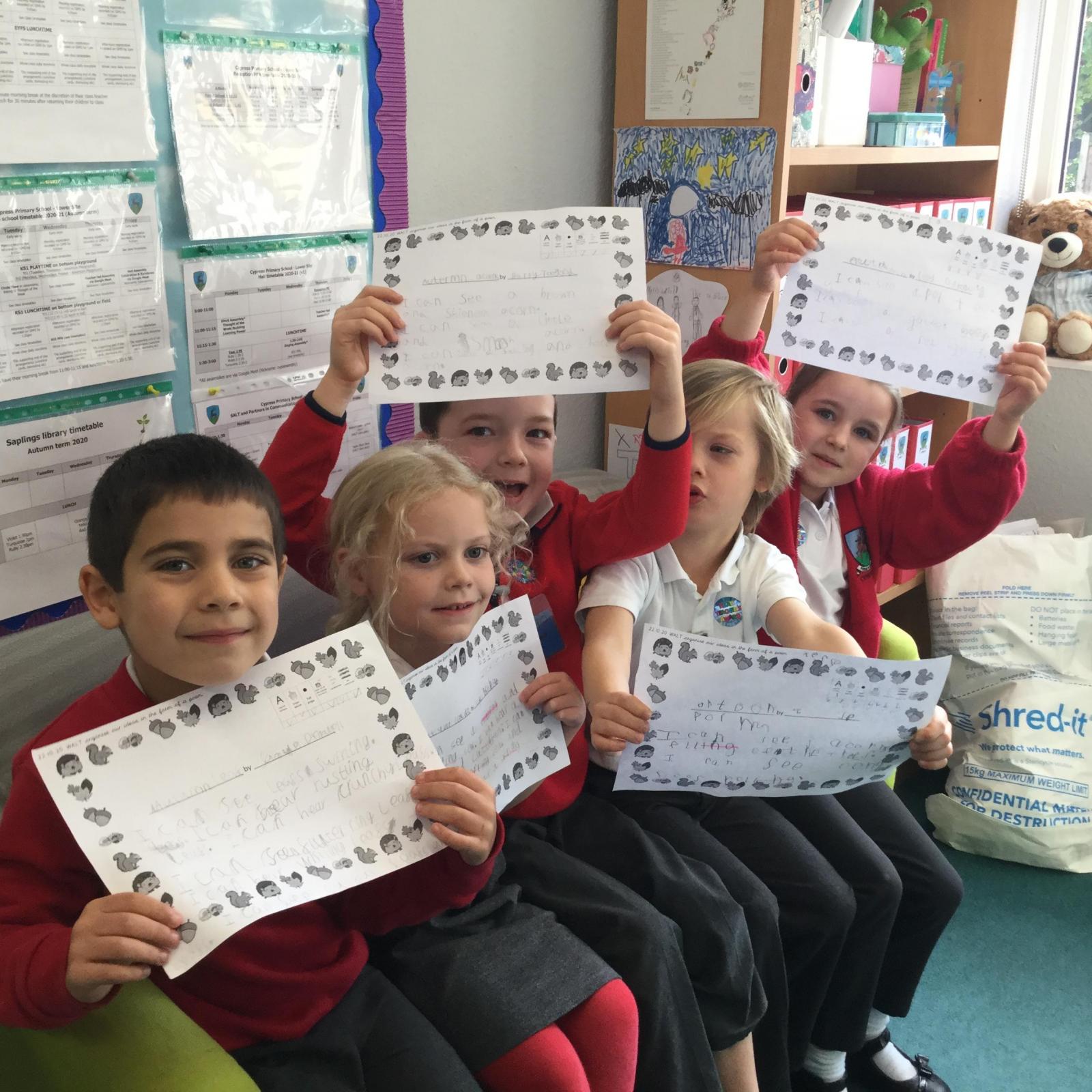 Flu Vaccination Reminder
On Wednesday 4th November (first day back after half term), the school nurses will be coming into school to administer the flu vaccinations to children at the Lower School.  Please ensure you have returned your consent form to the school office.
Good luck to Mrs Sorensen for her maternity leave!  Here at Cypress we all want to wish Mrs Sorensen the very best of luck for the exciting weeks ahead as she starts her maternity leave.  We can't wait to meet the new addition to the Sorensen family and hope that Mrs Sorensen gets a few days to relax and put her feet up before her baby arrives!  We will all miss her here at Cypress but look forward to hearing updates from her and seeing her again before too long.
Thank you for this half-term
We would like to take this opportunity to thank our amazing staff, children and their families for everyone's overwhelming support and positivity this half term.  We are pleased to report that we have had no confirmed cases of Coronavirus at Cypress this half term and would like to thank our staff and community for their efforts in following our health and safety guidance, ensuring social distancing and wearing face coverings.  Our Cypress children have been incredibly focused, well behaved and have thoroughly enjoyed their return to school.  The progress they have all made in their learning has been amazing!  We hope that everyone has a safe and relaxing half term and we look forward to welcoming everyone back on Wednesday 4th November.