Good morning everyone and we hope you are all safe and well?  We have planned a few improvements for our communications with our families and children from next week and we thought we would share these with you here.
Year group specific e-mail addresses.  Our first e-mail address for homelearning (homelearning@pegasusacademytrust.org) has been a tremendous success with hundreds and hundreds of photos sent in.  When I am feeling downhearted at any time I can go on there and really cheer myself up by looking at the work the children are doing and, most importantly, their creativity.  The feedback on our new year group pages has been incredibly positive and our current focus is to increase the number of videos and narrated PowerPoints that we are including each week.  However, it's also good to see children cooking, making dens, sewing, helping with household tasks etc.  This is a very necessary part of navigating our way through the lock down period and far preferable to overuse of electronics and as teachers and parents we very much support this wider learning.
A change is now needed to our contact e-mails because the volume of e-mails coming to a single e-mail address was overwhelming the small team who were monitoring that address.  In order to improve this we now have an e-mail address for each year group to send photos to or to ask general questions about learning.  These are:
[Nursery]  nur@pegasusacademytrust.org;
[Reception]  rec@pegasusacademytrust.org;
[Year 1]  yr1@pegasusacademytrust.org;
[Year 2]  yr2@pegasusacademytrust.org;
[Year 3]  yr3@pegasusacademytrust.org;
[Year 4]  yr4@pegasusacademytrust.org;
[Year 5]  yr5@pegasusacademytrust.org;
[Year 6]  yr6@pegasusacademytrust.org.
These e-mail addresses will be monitored by a team of teachers from that year group and this will ensure a prompter response.  The existing address homelearning@pegasusacademytrust.org will be closed on Wednesday 6th May.
Wellbeing phone calls.  Following a successful trial with our Year 6 families this week we will now be calling all our families on the phone once every two weeks to catch up with them and to offer support where we can.  ☎ Teachers and children in Year 6 have enjoyed having the chance to speak to one another and we have been getting some good comments back via the blogs …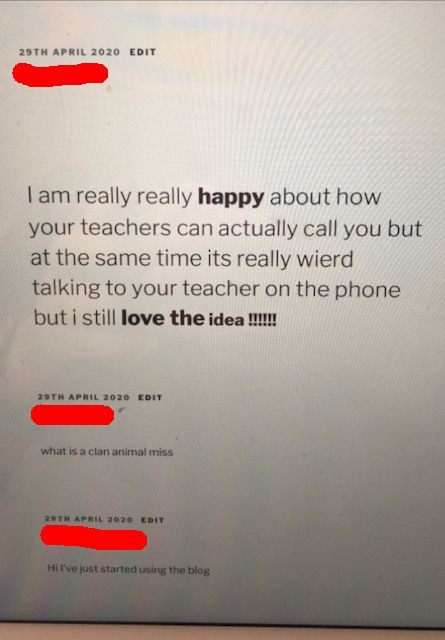 … so now seems to be the right time to extend this initiative.  Obviously the phone that teachers are calling from will be a blocked number so please do be aware that when 'No caller ID' comes up on your phone it may well be your child's teacher.
Fun stuff and competitions.  Our schools are communities as well as places to learn and during lock down we will keep thinking of fun things for the children to get involved in after they have finished their daily activities.  To that end please do still check our news page where there entertaining items are regularly added by senior staff and teachers.  Two current things that children may enjoy are Mr. Robins 'spot the difference' competition and the chance to take part in a Pegasus inter schools 'Times Tables Rock stars' competition.
Finally, in response to parental requests, we will be setting our Year group pages 'live' at 7PM on Sunday nights rather that 7AM on Monday mornings.  This is to allow those who wish to print out work for the Monday to do so on Sunday night.
I hope that all will agree that each of these work streams represents an improvement and please be assured that we are still considering how we might continue to make things better and more manageable for the parents at our schools.
With best wishes to you all
Mr. Roberts